Strongest sandstorm in decades sweeps China
Sand envelopes Gansu Province in northwest China reducing visibility to less than 65ft, in the strongest sandstorm since 1996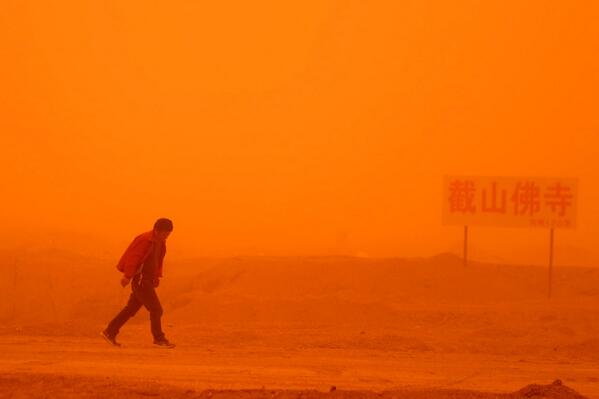 A strong sandstorm swept Gansu Province in northwest China on Wednesday, reducing visibility to less than 65ft, according to the provincial meteorological center.
The sandstorm, the strongest since 1996 according to reports, started in the early afternoon in Dunhuang County.
"Suddenly it became dark and I can't tell whether it's day or night," said one resident.
"My nose hurts and I can't open my eyes," another resident said.
The Jiuquan City Meteorological Center, which includes Dunhuang, issued a sandstorm red alert, the highest level alert, forecasting that visibility would be reduced to less than 164ft throughout Jiuquan on Wednesday evening.
As well as Dunhuang, neighbouring counties were also affected, with Guazhou, Subei, Yumen and Jinta counties also issuing sandstorm red alerts.
The provincial meteorological center forecast that the sandstorm will die down on Thursday.