Archive | May 20, 2014
A large sinkhole has been discovered at Austin Peay State University's Governors Stadium, complicating the project underway already to replace the main stadium building.
The hole, which extends into the north endzone, started out only about 3 feet by 5 feet and no more than 5 feet deep when it was discovered where the football field meets the track.
But workers have had to dig it out to be much larger, about 40 feet wide and 40 feet deep, in search of stable bedrock.
"We actually put a line item in the budget for sinkhole remediation," said Mike Jenkins, superintendent for Nashville-based Bell & Associates Construction. "You never know to what extent you're going to run into them, but we know that Montgomery County, and Austin Peay State University specifically, is famous for sinkholes."
Last August, a 5-foot sinkhole opened on Ford Street, near the university's Maynard Mathematics Center.
Underground limestone caves create the area's unique karst topography, and digging for installation of electrical wires or pipes can accelerate the flow of water that leads to the erosion of the rock.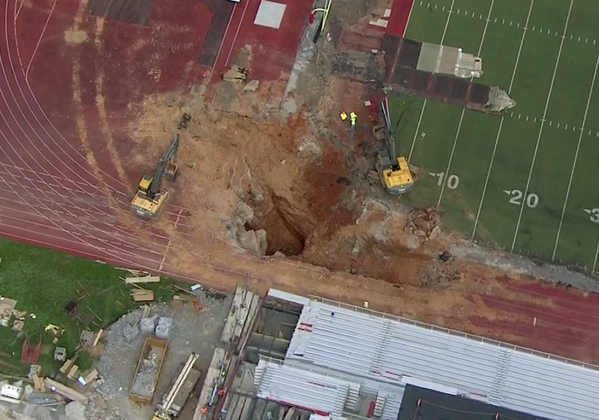 Jenkins said officials met with a geotechnical engineer Monday as construction workers continued to excavate dirt and expand the hole, which was discovered nearly a month ago. It will be filled by several layers of rock, separated by concrete and topped off by 2 feet of subgrade asphalt beneath the track and turf.
That should be completed by the end of the week, and Jenkins said they delayed the process in order to have it coincide with the scheduled demolition of the existing track and turf. New surfaces will be laid sometime in June.
Renovations to the stands on the west side are being treated as a separate project, and Jenkins said the sinkhole shouldn't affect the budget or schedule for either one.
Crews will also have to fix multiple smaller sinkholes in the parking lot in the final part of the project, which should be finished in time for the Govs' home opener vs. Chattanooga Sept. 13.