Archive | September 8, 2014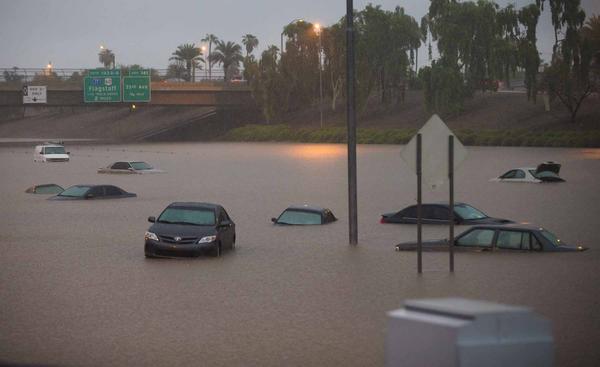 It's been an interesting few days in Phoenix, Arizona. A huge dust storm — known as a "haboob" — blanketed the area on Saturday, blowing thick sand on wind gusts between 25 to 40 miles per hour. And Monday was the wettest day in the city's recorded history, breaking a 75-year-old record for rainfall.
It was only 9:30 a.m. on Monday when the rainfall record was broken, with Phoenix Sky Harbor International Airport reporting 3.29 inches of rain since midnight, according to Phoenix's local CBS affiliate. That surpassed the previous daily record of 2.91 inches, the most rain since Phoenix began record-keeping in 1895. As of publication, more than 4 inches of rain had fallen so far in Phoenix.
The rare heavy rainfall led to flooding that inundated freeways and stranded drivers on the side of the road. As The Weather Channel notes, the desert terrain surrounding Phoenix is already incapable of absorbing a lot of water — a situation that gets even worse when heavy rainfall hits the concrete-laden city, which also can't absorb water.
The storm, brought on by tropical moisture from the former Hurricane Norbert, brought more rain than Phoenix typically sees in an entire monsoon season, the National Weather Service excitedly tweeted on Monday. The American Southwest's monsoon season generally lasts from July until mid-September.
Monsoon seasons not only bring rains, though — they also bring dust storms, or "haboobs." Phoenix sees several haboobs every year, driven by strong winds from a moving thunderstorm that blow up dry desert sand.
"The best way to explain a haboob is to say it is a tsunami of sand, in the sense that there is no stopping it or outrunning it," Fernanda Santos of the New York Times wrote in August. "It is a supreme spectacle."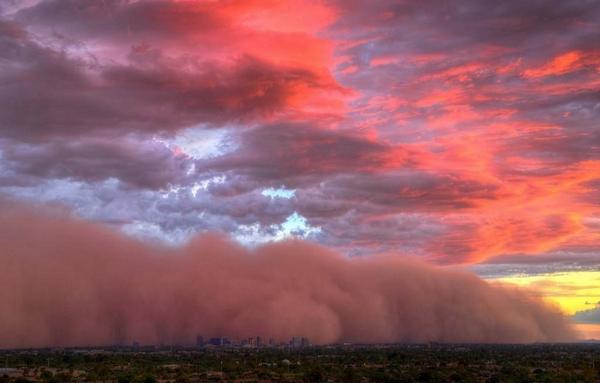 For the last 40 years in the American Southwest, dust storms like Saturday's in Phoenix have been steadily on the rise, according to a University of Colorado study published last year and funded by the National Science Foundation. The increases in dust, according to the study, can be attributed to a combination of factors — more storms with high winds, more drought, land use changes, and even more construction projects.
At least one peer-reviewed paper has suggested that as temperatures rise in the Southwest due to climate change, more dust could be created. Alyson Kenward described it well for Climate Central: "Hotter average temperatures mean the region could become even drier than it is already, making it harder for perennial grasses and plants to thrive. Without these grasses to keep the soil intact, it's a lot easier for wind to pick the dust up off the ground."
As for extreme precipitation and flooding events, scientists more readily agree that those can be made worse by climate change.
The way this happens is relatively simple: As carbon dioxide is emitted from burning fossil fuels and destroying tropical forests, it traps heat in the atmosphere. As the trapped heat raises the planet's average temperature, the heat evaporates water from the ocean and soil, putting moisture into the air.
As global temperatures rise, the atmosphere then holds more moisture — about 4 percent more per degree of temperature increase. Therefore there is more water vapor available to fall as rain, snow, or hail when storms occur.