Archive | September 11, 2014
More power outages expected as snow-laden trees continue to fall around the city
Thousands of Calgary homes and businesses are still without power after a freak September snowstorm blanketed the city, and officials are expecting some Calgarians will have no power overnight.
"We are still very much in an active situation," said Mayor Naheed Nenshi.
Emergency responders and utility workers have been scrambling to deal with power lines downed by snow-laden tree branches. They expect work to continue into Thursday, and the cleanup could take days or even weeks.
"Don't be alarmed if you hear chainsaws [tonight]," said Nenshi.
The mayor said the priorities right now are keeping Calgarians safe, restoring power and clearing the roads of debris.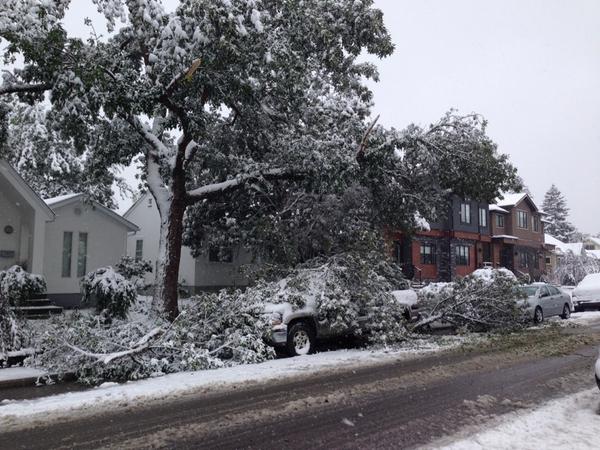 Power outages expected overnight
The city says it is waiving tipping fees at local landfills for Calgarians to dispose of debris. Residents are being asked not to put broken branches in the blue recycling bins, green organic bins or black garbage bins.
There were roughly 200 reports of outages in Calgary on Wednesday. A spokesperson for the city-owned utility Enmax said the situation is very fluid, and more power outages are expected as more trees break under the weight of the heavy snow.
Enmax officials said they cannot put a timeline on when power will be restored to all parts of the city.
"September snow + bored = grumpy snowmen army
"This is actually in pretty much all quadrants of the city with the exception of the northeast," said Enmax spokeswoman Doris Kaufmann. "It has been the least touched. Enmax has brought on additional crews to assist with all of that effort getting the power on."
Nenshi asks those in affected power outage areas overnight to check on the welfare of their neighbours, especially the elderly.
Emergency centre opened
City officials say there are scattered phone outages in the south end of Calgary. If a resident has no phone access, they can attend any local city building to get help.

Emergency crews are busy responding to reports of sparking and smoking power lines. City officials say if you see a downed line call 311, and if you see a sparking line call 911.
The city opened its Emergency Management Centre to co-ordinate calls. 
Officials said crews are having to prioritize and respond to the most urgent situations.
Police and fire crews are taping off areas where there may be a risk to people, such as a power line lying across a road.