Archive | November 28, 2014
Four people died and two other people were still missing on Friday after a heavy storm triggered flash flooding in southeastern France, the government said. Weather warnings were in place for some 14 departments in the region.
Helicopters, soldiers and paramilitary police carried out dozens of rescue operations in the rain-lashed region, hit by weeks of successive storms and flooding.
Updating an earlier toll, Cazeneuve said three people had died in the Mediterranean towns of La Londe-les-Maures, Grimaud and Hyeres and "two are missing."
One of the victims was a woman whose body was found next to her car alongside a river, said Pierre Soubelet, the representative of the Var department on the Mediterranean coast. The woman was understood to have been out with her daughter at the time.
"Her daughter has not been found. It is likely that the child has died," he said.
At Grimaud in the Gulf of St Tropez around 30 pupils were trapped in their school as flood waters rose. They were eventually rescued and allowed to return home at around 8pm.
There were also reports of two mini-tornado causing havoc in the towns of Sérignan and Nissan-les-Enserune in the Herault department that caused one house to collapse briefly trapping two people inside and leaving ten others injured.
Interior Minister Bernard Cazeneuve gave a toll of "one dead and three people missing" late on Thursday. 
Prime Minister Manuel Valls expressed his "sadness" for the loss of life and urged residents to be particularly cautious.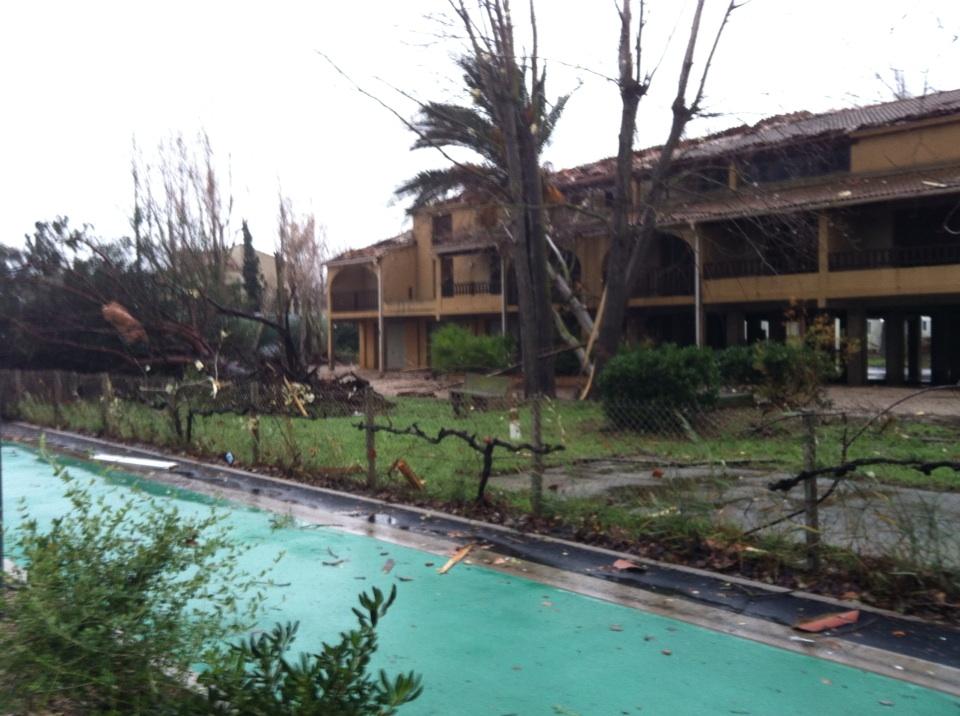 In the village of La Londe, in the same area, divers were searching a river after witnesses said a car had been washed away.
Homes had to be evacuated as flood waters rose with residents forced to spend part of the night in an emergency centre set up b local authorities.
South-eastern France has seen multiple storms this autumn linked to abnormally high Mediterranean temperatures.
Earlier this month, storms in southern France left six people dead, including a mother and her two small sons whose vehicle was swept away on a submerged bridge.
The father, who was also travelling in the car, survived the ordeal after rescue workers managed to pull him out of the vehicle just before it was swept away by the floods caused by the torrential rain.
Six people died in mid-September when storms turned a peaceful river that bordered their camping site in southern France into a raging torrent that swept them away.
The victims were washed away from a campground in Lamalou-les-Bains by a two-metre deep surge of water and one died after falling into a swollen river in Arnac in the Aveyron region.