Archive | January 15, 2015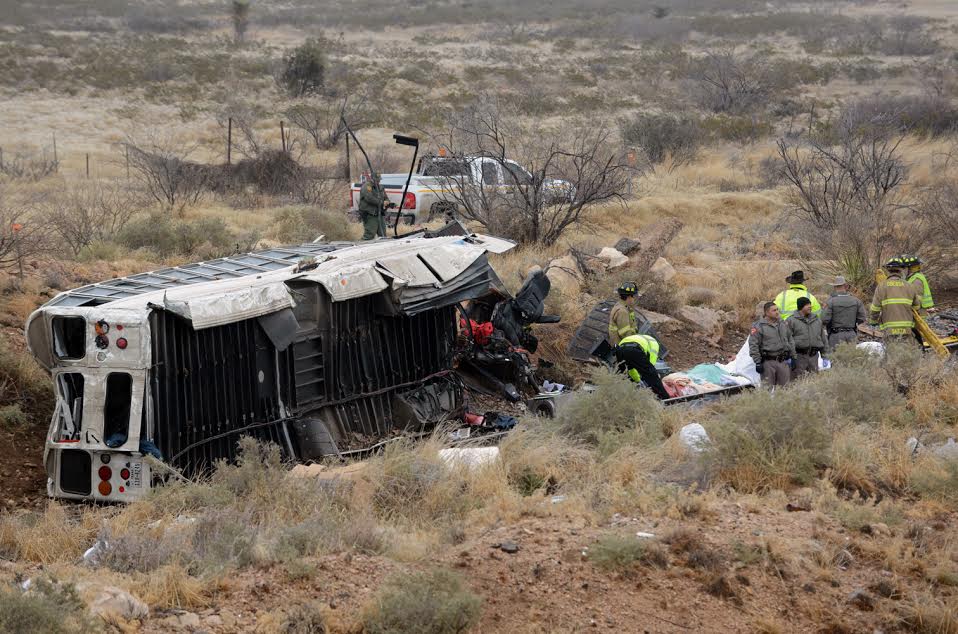 Photo courtesy of CBS News
Ten people were killed and five badly injured when a Texas prison bus carrying 15 people skidded off an icy highway overpass and hit a moving freight train on Wednesday, officials said.
Two correctional officers and eight inmates died from injuries suffered in the accident near the west Texas city of Odessa, the Texas Department of Criminal Justice said.
"It's with a heavy heart that we mourn the loss of those killed and injured this morning in a tragic accident. Their loved ones will be in our thoughts and prayers," said Brad Livingston, executive director of the Texas Department of Criminal Justice.
Four of the crash victims were in critical condition and the other was in serious condition, according to Medical Center Hospital in Odessa.
The bus was traveling from Abilene to El Paso with 12 inmates and three corrections officers aboard. It was transporting offenders from the Middleton Unit in Abilene, which houses male offenders and is not a high-security facility.
The officers killed were Christopher Davis, 53 and Eligio Garcia, 45. The inmates killed were Kaleb Wise, 22, Jeremiah Rodriguez, 35, and six others ranging in age 25 to 44, the Department of Criminal Justice said.
The accident appeared to be weather-related, a spokeswoman with the Texas Department of Public Safety said.
"It seems that there was an ice patch there on the overpass," said Sergeant Elizabeth Barney, who added the bus crashed into the moving train.
She said only the bus driver had a seat belt and the rest of the passengers were seated on benches without safety restraints. Some were ejected from the bus, which she described as a minimum security transport vehicle.
"It is a very horrific and tragic crash," Barney said.
The National Transportation Safety Board said it was sending a team to investigate.
The Union Pacific railroad said the bus plunged from the elevated roadway and into one of its freight trains, causing damage to two cars. The two crew members aboard the train did not suffer serious injuries.
"Our sympathies go out to all the victims involved," spokesman Jeff DeGraff said.
Courtesy of Reuters