2 MILLION chickens dead in Aibonito, Puerto Rico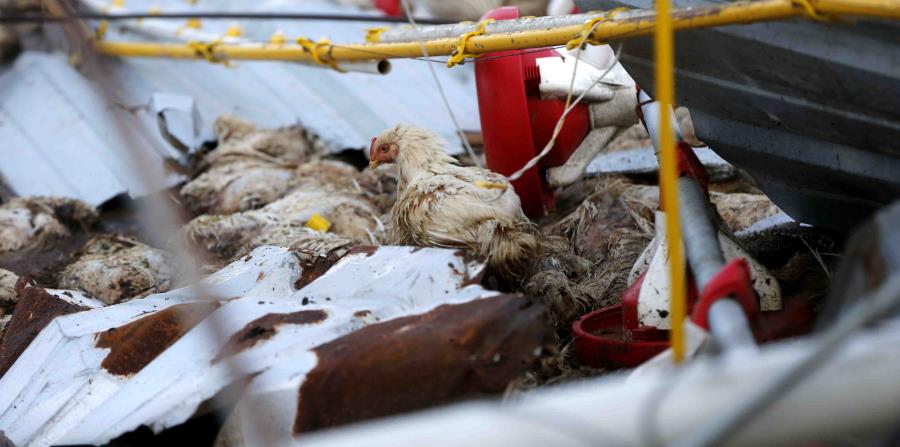 Photo By AP / Gerald Herbert
No flowers, no poultry industry and now, moreover, without food.
That was today the situation of the municipality of Aibonito, where Mayor William Alicea Pérez, fears in particular by the lack of supplies in the school Doctor José N. Gandara which remain 40 refugees.
Meanwhile, the Mennonite Hospital which is almost like the mountain Medical Center, works at a small fraction of its capacity due to the lack of diesel for their power plants.
"The village is devastated completely. In principle we had preliminary numbers by travels… However, yesterday we started to gather information and a number of preliminary 1,000 to 1,500 and unafraid to make mistakes, now I understand that we must be close to 3,000 homes impacted total and partially", explained the official.
He said that the situation in the refuge is critical because during the passage of Hurricane Maria had more than 100 refugees. Although that amount was reduced already they don't how to feed to those who remain. However, their hope is that they must not have problems entering not late to get help since they could enable all main access including the scenic and PR-1 and trucks with supplies.
"People in the Catholic Church and the Center steps are providing us food limited and urge family members to reach the refuge to be able to reach us for support," said at the time that called for fast-food restaurants to that mobilize as soon as possible and open businesses.
"If they need assistance from the municipality to collect lost products we are in the best position and they in turn be contacts with its distribution centers that bring them new food and begin its operations is something we need" He said.
On the other hand, he said that the rich-To company facilities were devastated in its entirety. Yesterday Monday agreed personal UFDA in the village and the Secretary of agriculture said that today a team is was heading to farms to make due almost a million burial 800,000 chickens.
"But be careful that they have not reached the two million… Chickens must be confiscated and buried. It is a big loss, not only our people but of all Puerto Rico and this will cause the subsequent effects of this event by the destruction of the farms. We will take time to lift them. Required a million-dollar investment because they are structures that must comply with a well precise construction standards for safety", he explained.
Although he was confident that that process is already under way and should conclude this week, he said that any delay in the confiscation and burial would create a terrible health problem.
Meanwhile, it pointed out that in same State of devastation are farms of ornamental plants and Easter.
"Now in the month of October and November the sale of Easter began already and they were completely devastated. It is a very difficult situation. Orchids and other ornamental which are distributed at the island level and all was lost and what that wraps between direct and indirect jobs are impacted,"he said.
Courtesy of elnuevodia.com