Archive | February 14, 2018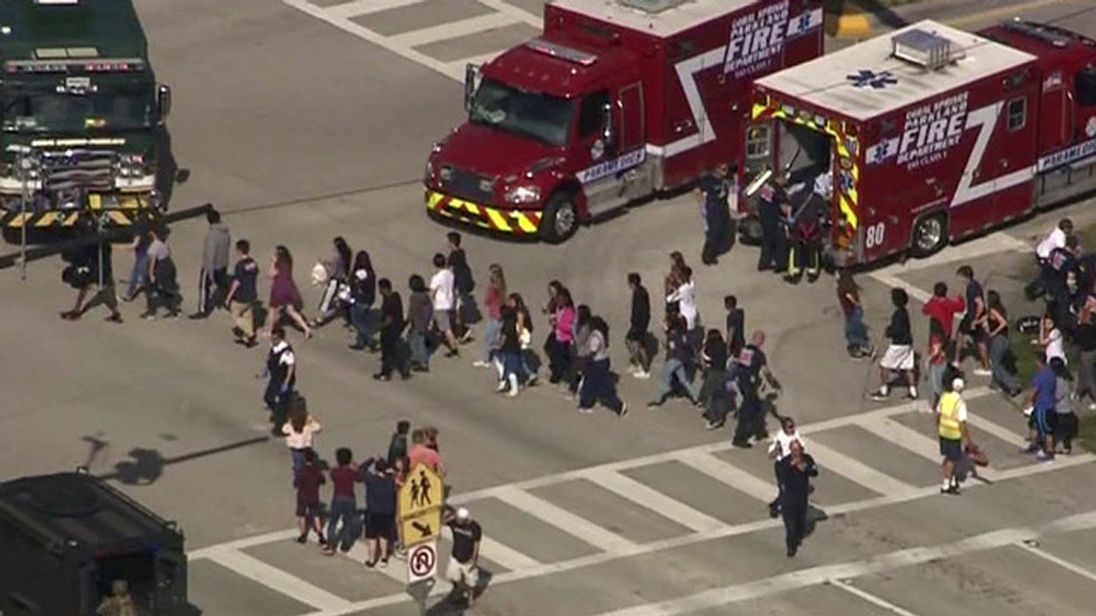 Students were evacuated from Marjory Stoneman Douglas High School. Pic: WSVN.com
Fifteen people have been killed, according to US media reports, and at least 14 people injured in a Florida high school shooting.
The attack began at Marjory Stoneman Douglas High School in Parkland, northwest of Fort Lauderdale, just before 3pm on Wednesday afternoon, local time.
The school, which has around 3,000 students, was placed on a "code red" lockdown and television footage later showed dozens of people running and walking away from the school.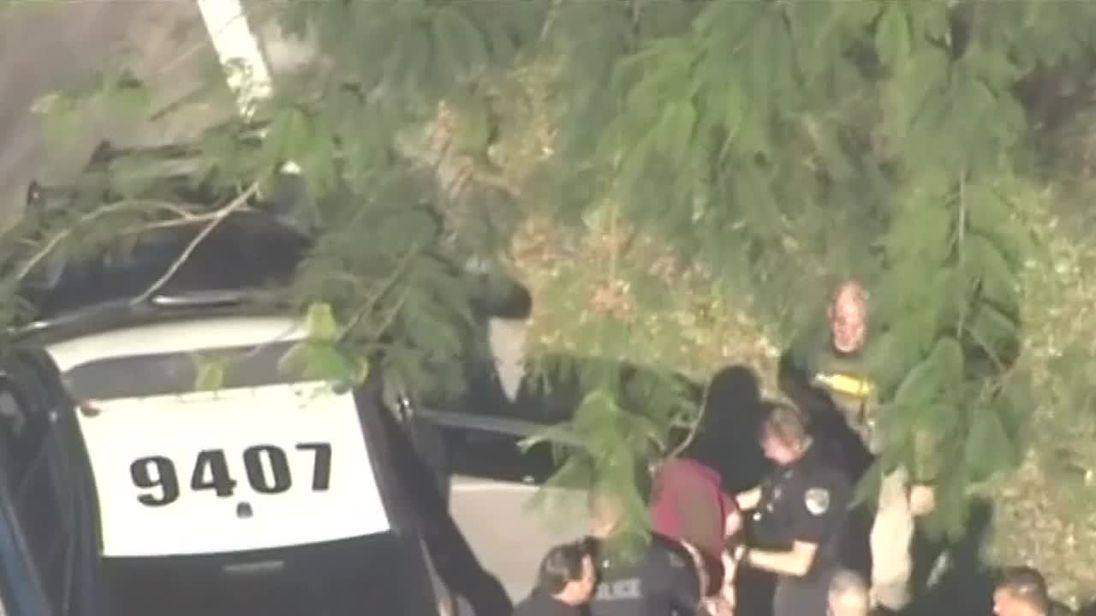 School shooting suspect handcuffed
Broward County Sheriff Scott Israel later confirmed that the suspected gunman – named by a US official as Nicolas Cruz – was arrested off campus "without incident", adding that he was a former student aged about 18.
"There was a time when he did attend the school," Mr Israel said. "I don't know why he left."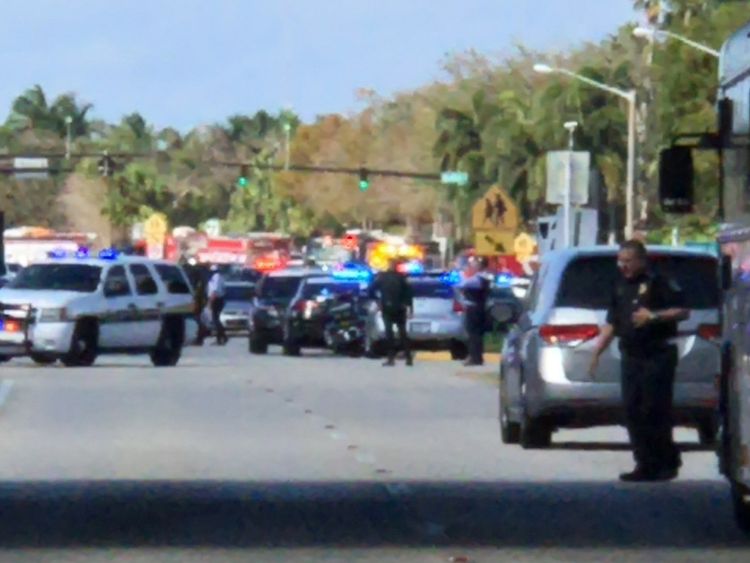 The sheriff's office said there are at least 14 victims. Pic: @GRUMPYHAUS
Broward Country Schools Superintendent Robert Runcie confirmed: "There are numerous fatalities.
"It's a horrific situation."
The sheriff's office said: "So far we have at least 14 victims.
"Victims have been and continue to be transported to Broward Health Medical Center and Broward Health North hospital."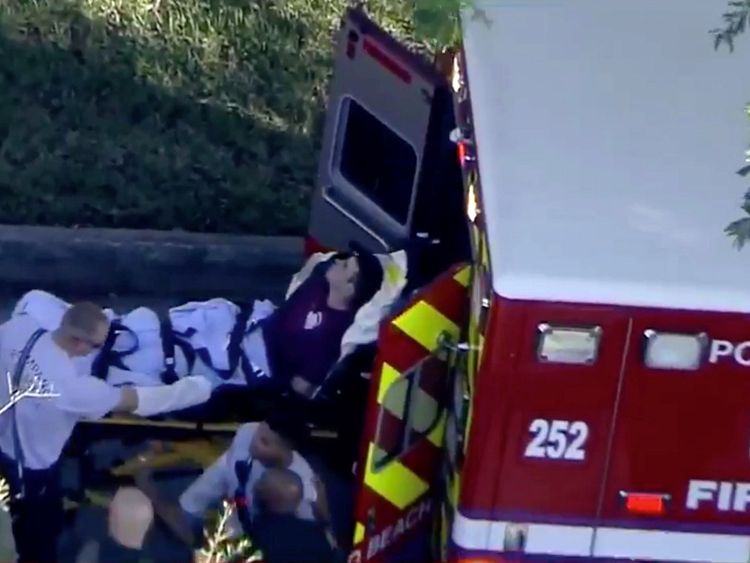 A young man is put into an ambulance outside the school. Pic: WSVN.com
SWAT teams were searching the school's buildings to be sure there were no more attackers in what he described as a "horrific" scene.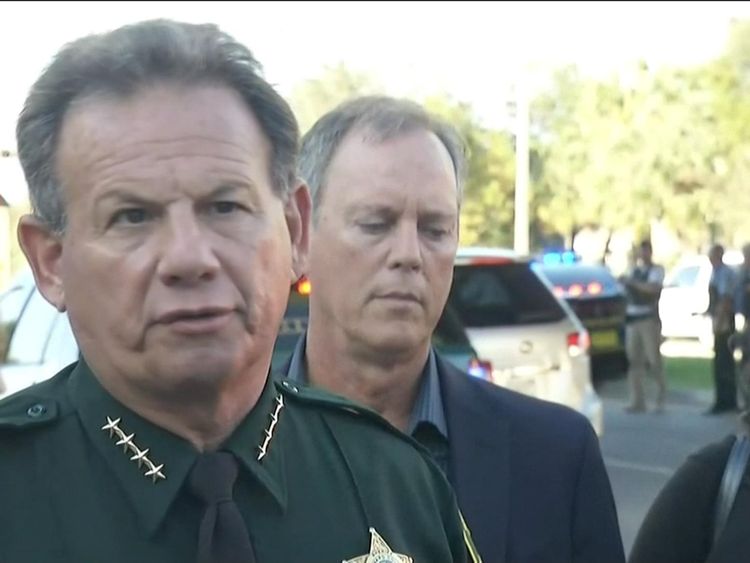 Scott Israel of Broward County described the scene as 'horrific'
McKenzie Hartley, 19, said her sister was inside the school at the time and she told Reuters: "She heard him shooting through the windows of classrooms and two students were shot."
Kyle Yeoward, 16, told Reuters he was in the bathroom on the second floor of the building where most of the shooting took place, when he heard two shots.
"He let loose on the freshman building," Kyle said.
Lissette Rozenblat, whose daughter goes to the school, told CNN that her daughter was safe but had heard the cries of a person who was shot.
"She was very nervous. She said that she could hear the person who was shot crying out for help."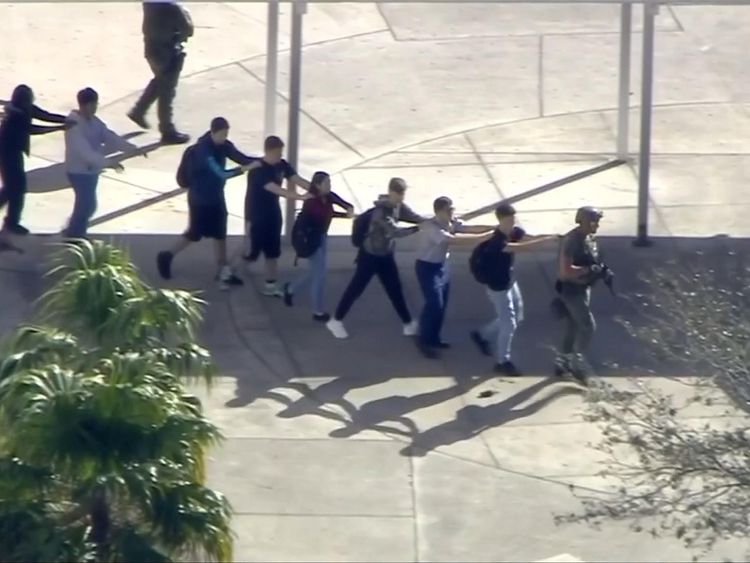 The school in Florida has about 3,000 students
Meanwhile, parents began to gather near the school waiting for news of their children.
Among them was Len Murray, whose 17-year-old son attends the high.
At 2.30pm, he had sent his parents a text saying: "Mom and Dad, there have been shots fired on campus at school.
"There are police sirens outside.
"I'm in the auditorium and the doors are locked."
A few minutes later, he texted again: "I'm fine."
Mr Murray said: "I'm scared for the other parents here.
"You can see the concern in everybody's faces.
"Everybody is asking: 'Have you heard from your child yet?'"
Sky's US Correspondent Cordelia Lynch said: "Just yesterday this city, Parkland, was named as the safest in Florida and now this terrible incident.
"Since 2013, there have been 300 school shootings.
"That gives you a sense of just how stark and tragically common these shootings can be."
Florida congressman Ted Deutch echoed those thoughts, writing on Twitter: "Parkland is an idyllic community.
"Tragedies like this occur everywhere.
"School shootings occur everywhere.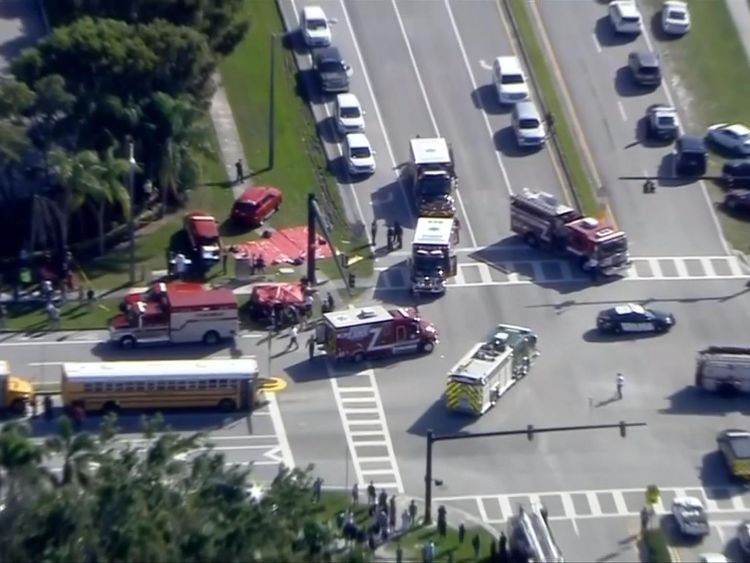 A shooter is in custody and is believed to be a former student
Florida Governor Rick Scott said on Twitter: "Just spoke with (US President Donald Trump) about shooting at Marjory Stoneman Douglas High School.
"My thoughts and prayers are with the students, their families and the entire community."
White House deputy press secretary Lindsay Walters said: "Our thoughts and prayers are with those affected."
Courtesy of Sky News