Archive | March 2, 2018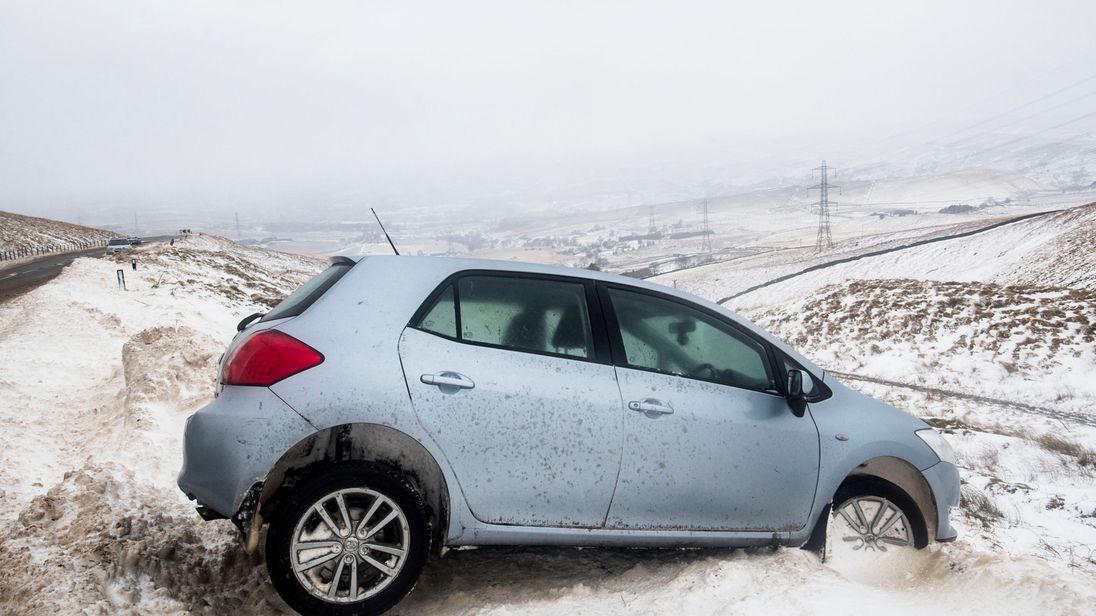 An abandoned car near Blackstone Edge in the Pennines
The severe weather has claimed several lives, with the Army drafted in to help hundreds of motorists stranded across the UK. 
Drivers have reported getting stuck for 17 hours as snow and high winds continue to batter the UK.
More than 100 cars and lorries were trapped overnight on the A303 between Ilminster in Somerset, and Mere in Wiltshire.
One motorist said a gritter "slid sideways" and got stuck in the snow itself.
Avon and Somerset Police said about 40 people travelling from London had been stranded through the night. They included a baby, elderly and vulnerable people, and some requiring medication.
Thomas Hamilton said he left his home in London at 6pm and was heading to a friend's farm when he got caught up, coming to a "standstill at the start of the A303 around midnight".
He was only 10 miles from his destination when he got stuck.
Wiltshire Council has described it as a "major incident", urging people not to travel in the area.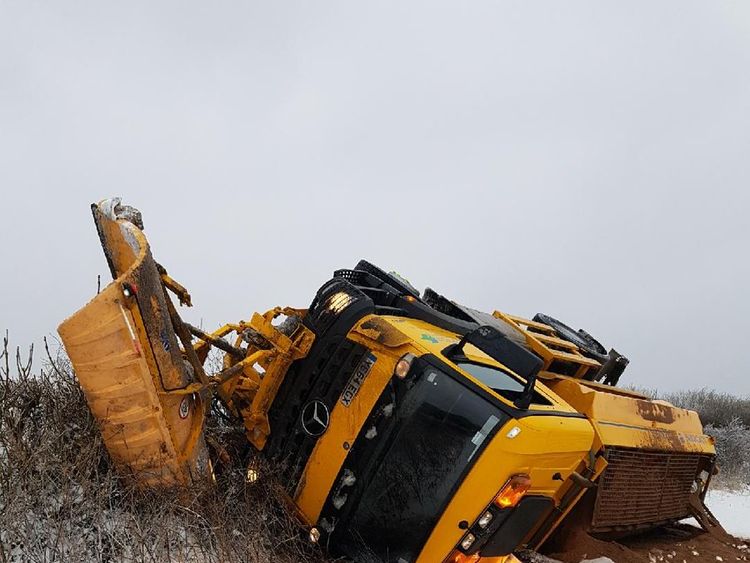 An overturned gritter lorry in Devon
On the M20 in Kent, a number of crashes have been reported after the fire service warned of "black ice" on the carriageways.
In Devon, a gritter overturned on the A379 near Shaldon. Devon County Council said that "fortunately", no one had been harmed.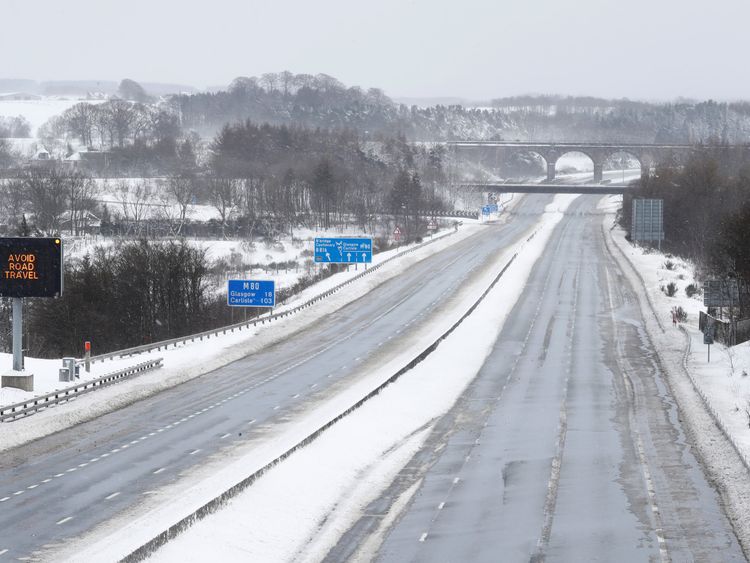 The M80 motorway near Glasgow after being cleared of traffic stranded overnight
The freezing weather has left several people dead and hundreds stranded amid closed roads and cancelled flights.
A seven-year-old girl died after a car slid off the road and hit a house in Cornwall on Thursday.
Widespread heavy snow and strong easterly winds are expected to bring "blizzard conditions" and "severe drifting" to affected areas. The Army has been drafted in to help stranded motorists.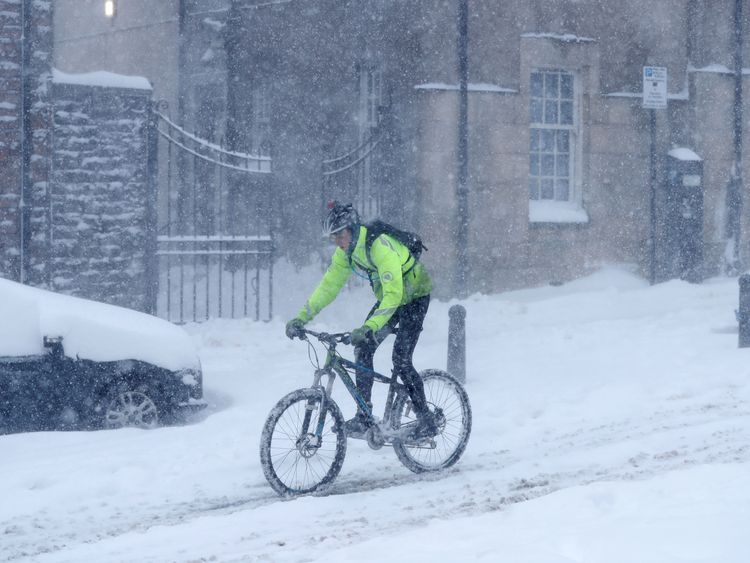 An intrepid cyclist navigates his way through the snow outside Sterling Castle in Scotland
Nearly all train operators are warning of cancellations and disruption to services throughout Friday.
Flights at the majority of UK airports have also been hit by the severe weather, with Heathrow warning of a "consolidated flight schedule" and Gatwick confirming that "many flights are cancelled or delayed".
Hundreds of schools have been forced to close, resulting in another snow day and a long weekend to thousands of children.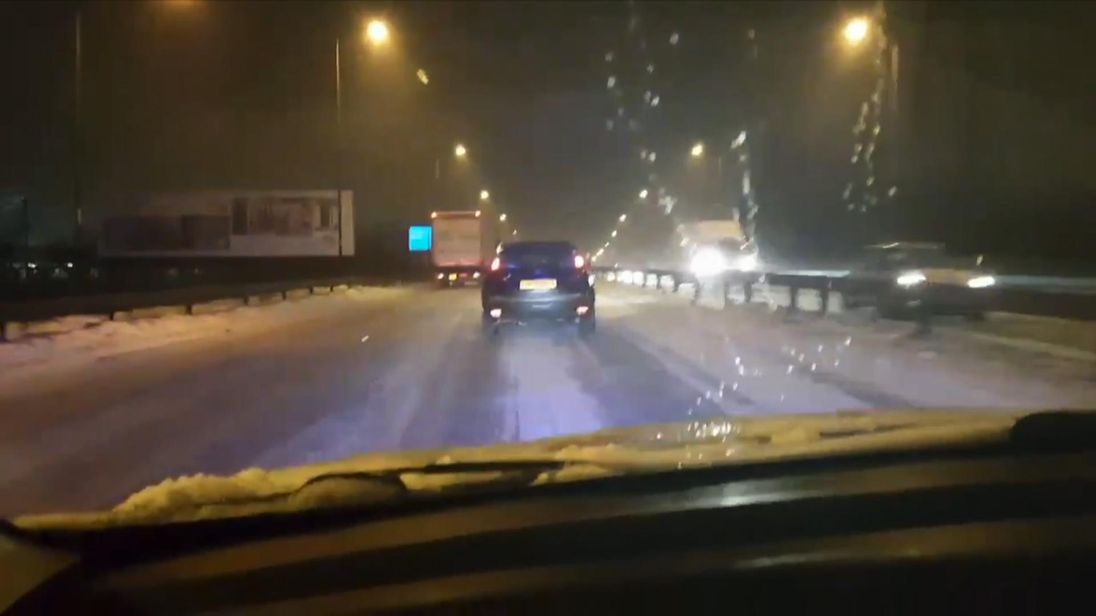 West Midlands Police dashcam
Met Office meteorologist Steven Keates warned there is "further snow to come, as well as a wintry mix of sleet and freezing rain".
He said: "Even parts of London and the South East are not immune to seeing more snow through the afternoon – not as much as yesterday, but still enough to cause further disruption.
"We are not out of the woods yet."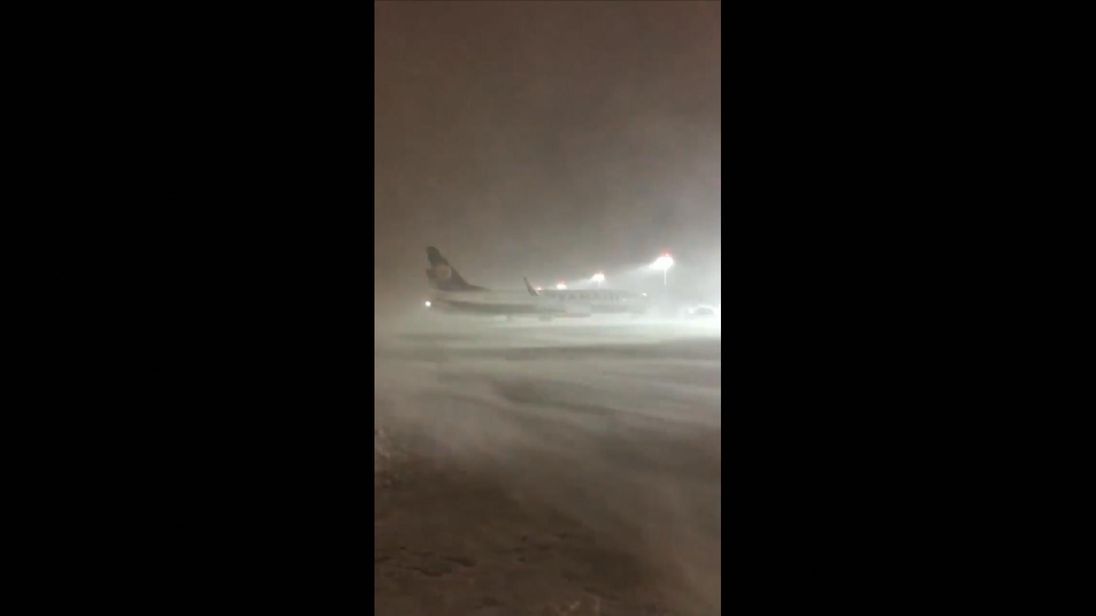 Grounded and going nowhere!
The sub-zero cold snap and Storm Emma have combined to deadly effect.
On Thursday, a 75-year-old woman was found dead on a snow-covered street in Leeds; a 46-year-old man died in a collision on the A34, and a 60-year-old man died after being pulled from a lake in Welling.
On Tuesday, three people were killed in a car crash in Lincolnshire; one man died in a collision in Cambridgeshire and a homeless man was found dead in his tent near St Swithun's Church in Retford.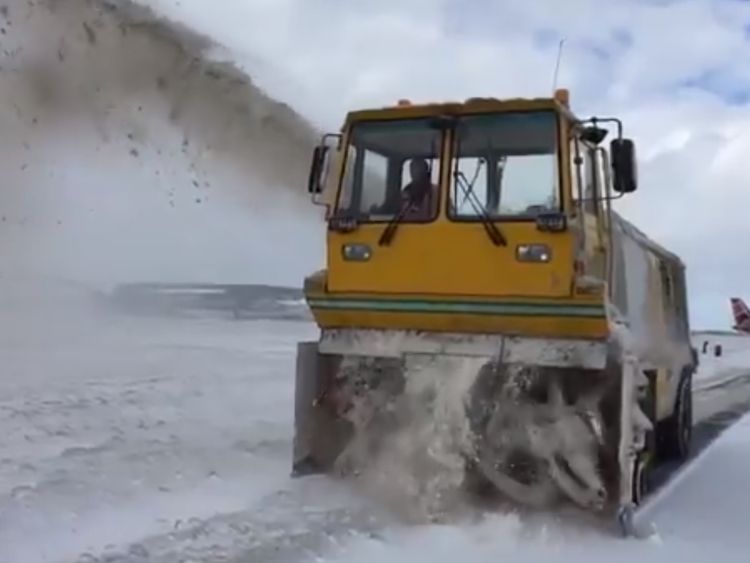 Workers try to clear the runway at Aberdeen Airport
Military forces were called in to assist with a major incident in Hampshire after a build-up of traffic left motorists stranded on the A31.
The South Central Ambulance Service NHS Foundation Trust put a call out for drivers of 4x4s and SUVs to meet at their Hampshire headquarters to help staff get to where they needed to go.
The Royal Air Force was drafted in to help Lincolnshire residents, with reports of some remote villages receiving up to 61cm (2ft) of snow.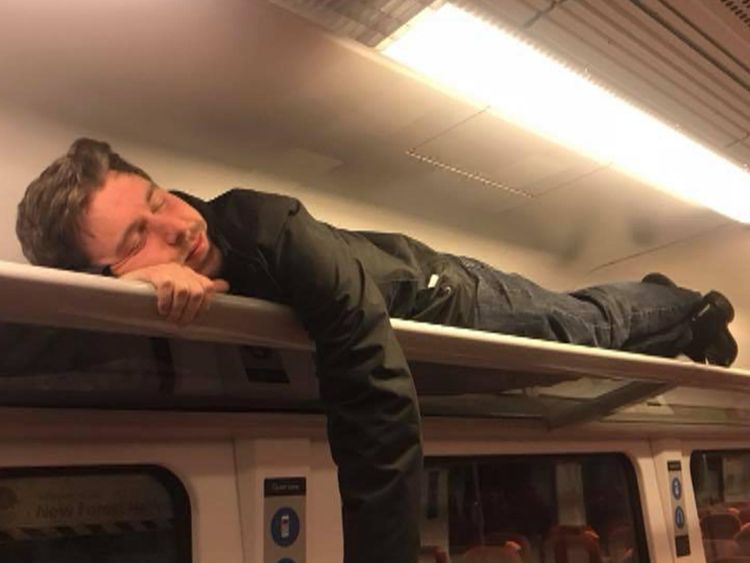 Making the most of the amenities on the 1705 Waterloo to Weymouth service
Passengers on the 5.05pm service from London Waterloo to Weymouth found themselves stuck at Brockenhurst station after a broken down train ahead left them stationary on the tracks.
With "frozen conductor rails" blamed for the front train's breakdown, about 50 passengers were left at a standstill until 3.30am. Staff reportedly gave out blankets and refreshments.
In Scotland – which saw the first of the snow when it hit on Thursday – hundreds of motorists spent hours trapped in cars on the M80 motorway near Glasgow.
Some remote areas of the Scottish Borders remain completely cut off.
Most of the Republic of Ireland has been placed under red alert after being hit by the worst snow in 65 years.
Residents have been warned to stay indoors, with the severe weather warning in place until at least 6pm on Friday.
Courtesy of Sky News