Manhunt in Vienna after knife attack leaves several people injured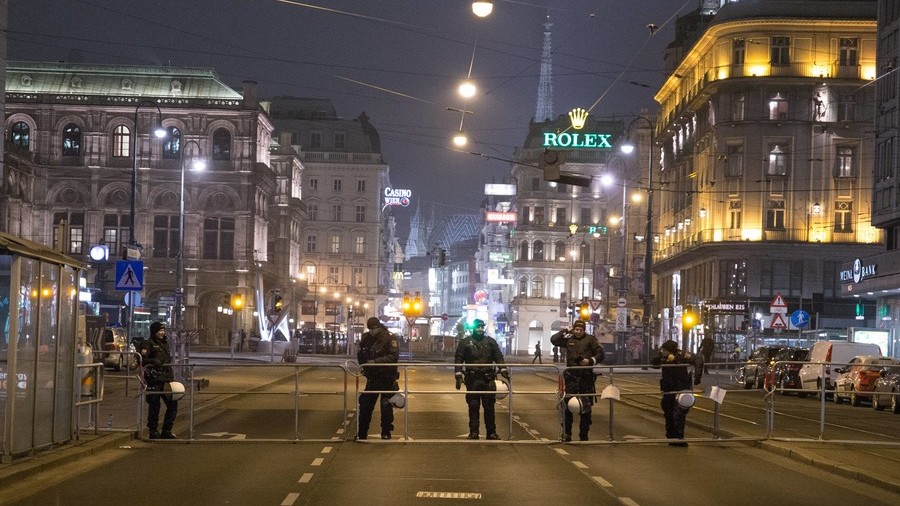 Police officers block a street in the Austrian capital of Vienna. © sro/Eibner-Pressefoto / Global Look Press
At least three people have been seriously injured in a knife attack in the Austrian capital Vienna. The assailant, who is now on the run, randomly attacked pedestrians, according to local media. His motives remain unknown.
The attacker, whose identity remains unknown, seems to have randomly assaulted pedestrians in the street, the Austrian Heute news media outlet reports. One man and two women aged between 40 and 50 sustained heavy injuries in the attack and were hospitalized, the Austrian Kurier daily reports, citing a police spokesman.
The incident took place near the Austrian capital's famous Prater Park around 19:45 local time (18:45 GMT). A large police force, including a Special Forces unit, has been deployed to the area, the Austrian media report, adding that the scene was quickly cordoned off.
A Vienna public transport company, the Wiener Linien, said in a statement that the city's U3 metro line has been affected by the police operation.
The alleged attacker managed to flee the scene and is still on the run, Austrian media report. According to Heute.at, heavily armed police officers are guarding the entrance doors of the buildings located not far from the scene. Local residents have been urged to stay at home.
Vienna police have confirmed the incident, stating that a knife attack indeed took place in the Praterstrasse area, and that some people were injured. It also stated that police officers are now looking for the assailant.
Courtesy of rt.com