6 turtles found dead on the coast of Aracaju, Brazil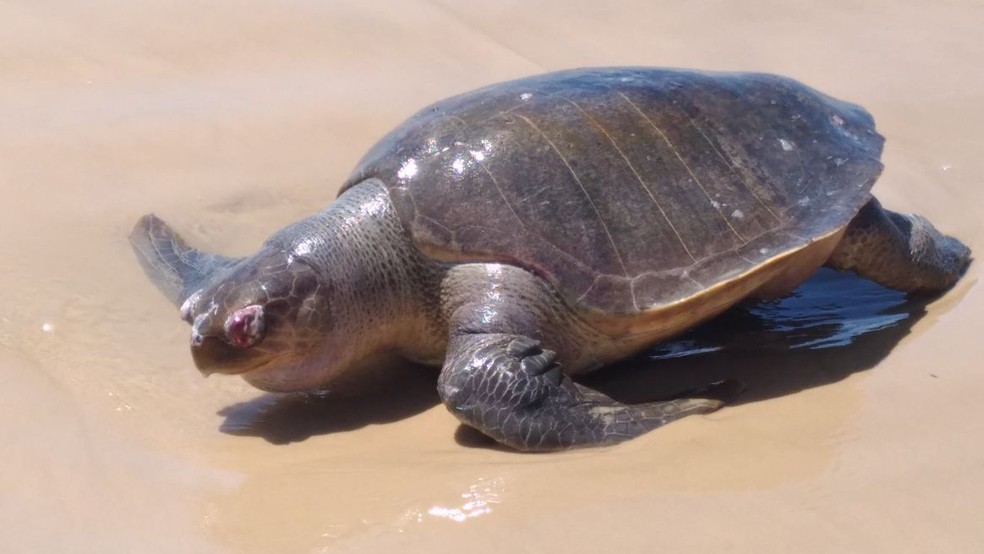 Turtle was found dead on the beach of Caueira on Saturday of Carnival (photo: Vera Rishu)
During this Wednesday (14), six turtles were found dead along the coast of Aracaju (SE). Monitoring was conducted from the Middle Crown until the beach of Viral. According to Ricardo Araújo, Coordinator of the Center for institutional development of Foundation aquatic mammals, the cause of death of animals has not been identified. Samples were collected for study in the laboratory and animals buried.
Ricardo warns that when you find a dead turtle, the population must not touch the animal or approach, since the cause of death has not been identified.
Beaches monitoring activities, developed by Covenant SEA, a partnership between Fundação aquatic mammals and the Institute of technology and research (ITP), are part of the Regional monitoring Subprogramme Strandings and abnormalities in the area of Scope of the Sergipe-Alagoas Basin (PRMEA), a measure of environmental impact assessment required by federal environmental licensing, conducted by IBAMA and the responsibility of Petrobras.
According to Ricardo, is not common to find six turtles killed in a single day, but this is not the first time. He points out that most of the dead animals is the species, typical of the coast of Sergipe. And, the cause of death usually happens because of garbage in the sea and fishing.
On the morning of Saturday (10), a turtle was found dead on the beach of Caueira, Itaporanga D'ajuda, Sergipe's South coast.
Courtesy of g1.globo.com