Sinkhole In St Albans, UK: Flats Evacuated As 'Precaution'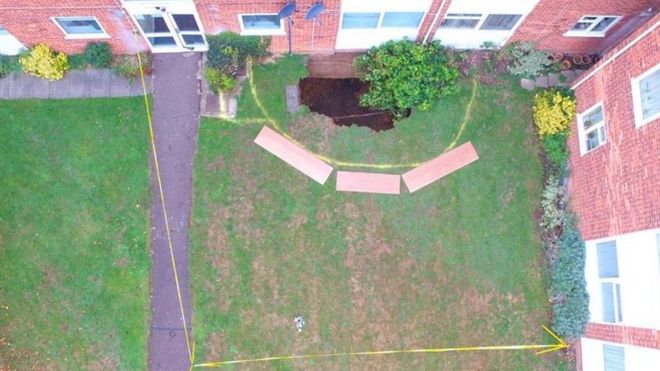 The fire service tweeted an aerial picture of the sinkhole, showing its position next to the Cedar Court flats – Photo by HERTS FIRE & RESCUE
Residents have been evacuated from their flats after a sinkhole measuring about 20ft (6m) across opened next to an exterior wall.
Emergency services were called to Cedarwood Drive, St Albans at about 05:50 GMT after the hole was spotted by a member of the public.
A spokeswoman for St Albans City Council said people in the Cedar Court flats had been moved as a precaution.
Residents said they expected to be out for at least two weeks.
Structural engineers and crews from the utility services are at the scene.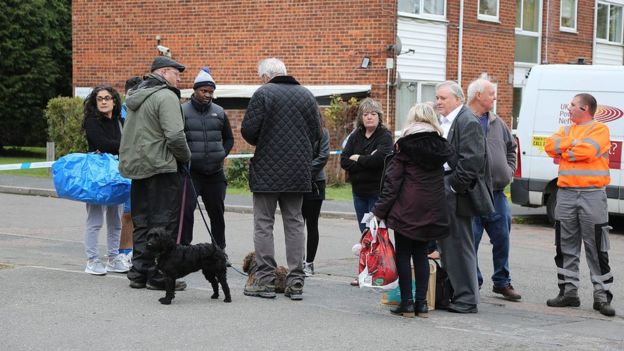 Residents have been evacuated from the flats as a precaution – Photo by SOUTH BEDS NEWS AGENCY
Darren Chason, who owns one of the 21 flats in the private block, said: "I'm on the ground floor right next to where the hole is. It's probably about three metres deep.
"I'm trying to work out whether my insurance are coming up with money so I've got somewhere to stay for the next couple of weeks and also whether they can come up with a structural engineer to assess the issue.
"Where will I find a hotel which will take me and my dogs?"
Zulq Ahmed, who rents one of the flats, said: "I went off to work and it was quite dark, so it didn't look as big this morning.
"Basically we've got to clear things out and it could be up to two weeks, so I'm hoping to grab a few more bits, but my landlord called me and told me the work could go on until Christmas."
A spokeswoman for St Albans City & District Council said officers from its Building Control and Environmental Services teams had been to the site and an incident management team had been brought together.
"We are working with partners including the Police and Hertfordshire County Council to make sure people are safe," she said.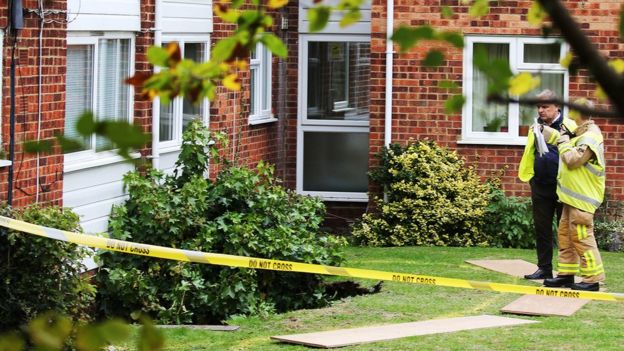 Structural engineers are on site – Photo by SOUTH BEDS NEWS AGENCY
In October 2015, another sinkhole opened up in Fontmell Close in the city – about 2.5 miles (4km) from Cedarwood Drive.
It cost about £600,000 for the local councils to fix.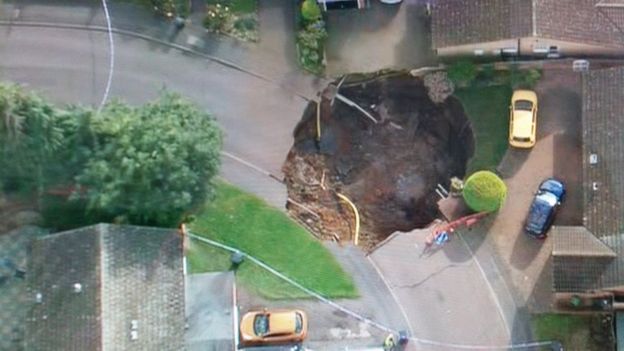 A 33ft (10m) deep sinkhole opened up in Fontmell Close, St Albans, three years ago
Courtesy of BBC News