2 #dead gray #whales wash up in #SanFranciscoBay, #USA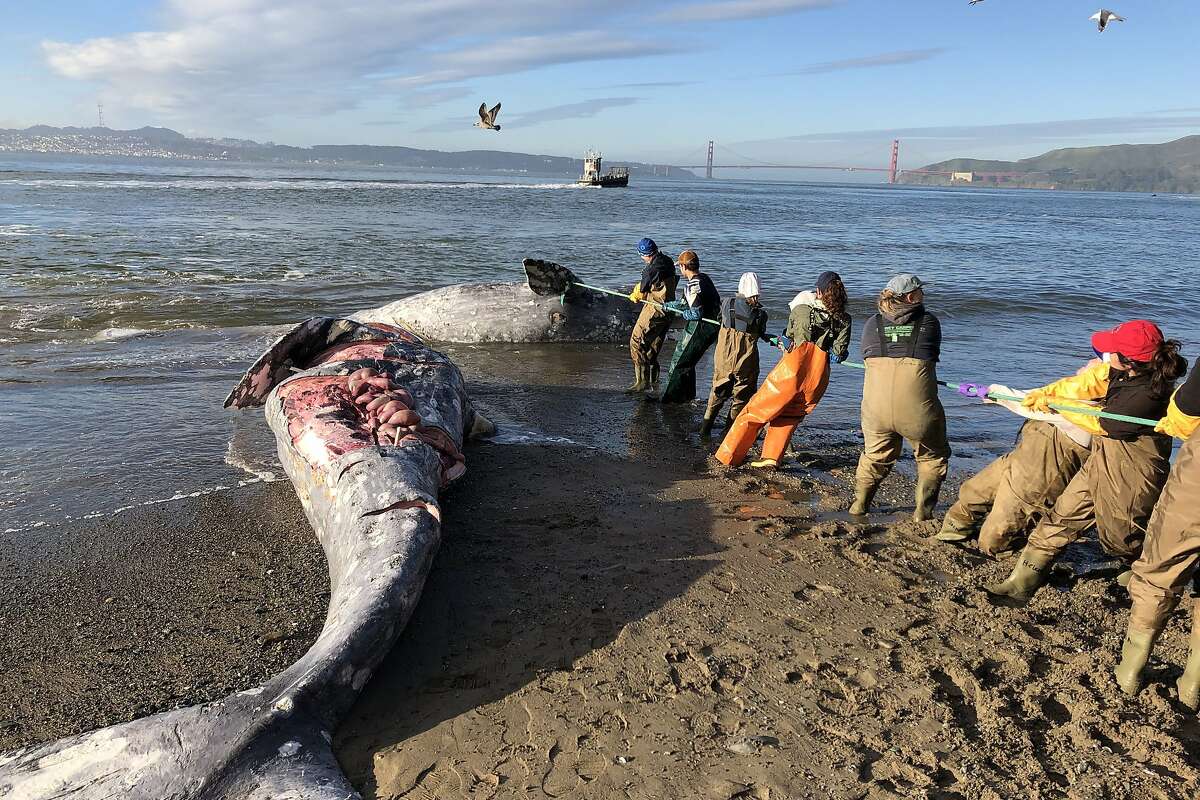 Photo: Courtesy Cara Field / Marine Mammal Center
Marine scientists are investigating the deaths of two gray whales found floating in San Francisco Bay this week.
The Marine Mammal Center in Sausalito received a report of a dead whale floating between Tiburon and Angel Island near Raccoon Strait on Sunday morning. The carcass settled near Belvedere Cove later that day. The next morning, officials with the U.S. Army Corps of Engineers spotted a second whale floating near the Bay Bridge, said Giancarlo Rulli, a Marine Mammal Center spokesman.
A marine salvage company helped the Corps of Engineers tow the carcasses to Angel Island on Monday afternoon, officials said.
Members of the Marine Mammal Center joined experts with the California Academy of Sciences on Tuesday morning in performing necropsies on the whales at the edge of the surf line at Angel Island State Park, Rulli said.
The first whale, identified as a 1-year-old, 23-foot female, appears to have died from malnutrition. Scientists said the whale had a "significant lack of blubber and body fat" and didn't have much food in her stomach.
"There was no evidence of trauma or infectious disease," officials said in a statement on Thursday.
Rulli said scientists were unable to perform a necropsy on the second whale because of a strong incoming tide. But they determined that the second whale was also a roughly 1-year-old, 23-foot female that was in a "moderate state of decomposition" and had a "decent amount of blubber reserves."
Rulli said scientists tied the second whale to the shore of Angel Island State Park and plan to return soon to complete a full investigation into the circumstances of her death.
Courtesy of sfchronicle.com