Archive | August 14, 2019
Subject to change




Depth:

 10 km

Distances: 614 km W of Guadalajara, Mexico / pop: 1,641,000 / local time: 16:35:19.6 2019-08-14
420 km S of La Paz, Mexico / pop: 172,000 / local time: 15:35:19.6 2019-08-14
273 km S of Cabo San Lucas, Mexico / pop: 42,700 / local time: 15:35:19.6 2019-08-14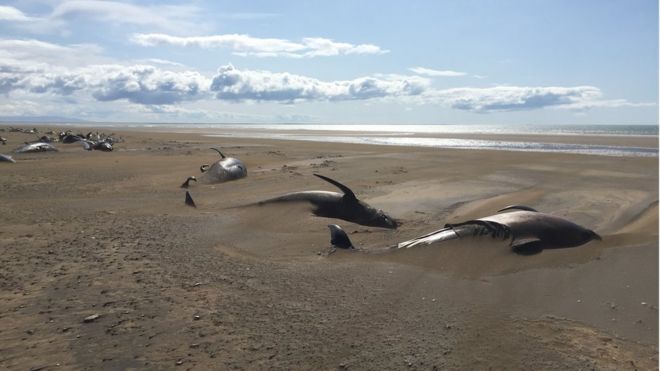 David Schwarzhans, the pilot of the sightseeing helicopter, took images of the whales
Dozens of dead beached whales have been spotted by sightseers during a helicopter flight over western Iceland.
The dead pilot whales were photographed during the trip on Thursday over a beach at Longufjorur.
It's unclear how the mammals became beached. The region where they were spotted is secluded, inaccessible by car and has very few visitors.
Police in the nearby town of Stykkisholmur have been made aware of the discovery, local media say.
The images were taken by helicopter pilot David Schwarzhans.
He told the BBC: "We were flying northbound over the beach and then we saw them. We were circling over it not sure if it was whales, seals or dolphins. We landed and counted about 60 but there must have been more because there were fins sticking out of the sand.
"It was tragic and when we stood downwind it was smelly. It wasn't something nice to see and quite shocking since there were so many".
Courtesy of bbc.co.uk
Photo: Disclosure / NGO Urban Turtles Guajiru
About 150 turtles were found dead on the Paraiba coast this year alone.
Most case are related to the garbage that is discarded in the sands border.
RTC reporter Everton Correia went to NGO Guajiru to show the work of volunteersstruggling to change this reality.
Courtesy of portalt5.com.br
State wildlife experts are investigating a large fish kill at Myrtle Grove. Thousands of dead pogies, catfish and crab surfaced at the canal, and the boat launch all day, just days after Hurricane Barry's storm surge moved out.
First it was Barry and the floods that followed. Now fishermen in this prime area are having to deal with a smelly large fish kill at a popular boat launch.
Pearl Young, who has fished the Myrtle Grove marina for years, said she didn't like what she saw today, or smelled.
She fished right off the dock and had little luck, while others went farther out to find clean water.
The fish kill comes just days after Hurricane Barry pushed storm surge into this area. Huge sandbags used to shore up the levee are visible from the launch and many say it's not unusual to see dead fish like this after tropical weather.
Thousands of pungent-smelling dead fish were visible hundreds of yards from the launch, but fishermen went out anyway to try their luck and checked their spots.
The fish kill created a feeding frenzy for seagulls.
Courtesy of fox8live.com
Several dozen seagulls were found dead the last several weeks in the Save-A-Lot parking lot in the City of Dunkirk.
"This whole street was covered in them," said Westfield resident Ashley DePonceau. She drives in the area everyday for work. "You had to dodge your car so you wouldn't hit them," she said.
DePonceau said she wants to know why.
We reached out to the NYS Department of Environmental Conservation to find out whether it thought someone was harming the birds, it was due to environmental factors, or something else was at play.
In a statement, a DEC spokeswoman said "The New York State Department of Environmental Conservation (DEC) is investigating reports of dead birds in Dunkirk, first received on July 9. The dead birds were young Ring-billed Gulls hatched this summer, as evidenced by their brown plumage. The birds were found in a parking lot at the Save-a-Lot Store in Dunkirk, and had died from car strikes as they loitered in the parking lot, as is typical of this species.
These gulls have been found dead in other gathering places, such as the shoreline, and along streets in Dunkirk. This mortality is referred to as post-fledging mortality. These bird deaths occur annually when the young gulls leave the safety of their nesting area as juveniles, and are no longer being cared for by their parents. Because gulls nest in such large colonies, with several hundred young produced, when even a small percentage of these young birds die it generates public interest."
Courtesy of wkbw.com
The hundreds of dead fish removed from a neighborhood pond Wednesday in Lombard were an alarming sight, but Mother Nature likely played a role in their demise.
The fish apparently died as a result of oxygen deprivation related to the scorching heat and shallow depths of the Lombard Lagoon, park district officials say.
A neighbor of the pond at Grace Street and Marcus Drive reported the dying fish shortly about noon Tuesday, interim Parks Superintendent Dean Styburski said. The park district responded with the full weight of his department, assembling 24 employees for the cleanup effort.
By Wednesday afternoon, as air temperatures hovered around 90 degrees, some 400 to 500 carcasses from the so-called "fish kill" had been cleared from the pond, Styburski said.
Aquatic management consultants advised the park district Wednesday that the worst of it is seemingly over, though there still may be additional deaths, Styburski said.
Consultants from Crystal Lake-based Environmental Aquatic Management LLC suspect that warming waters depleted the pond of the oxygen necessary for fish to survive. Which is why Styburski was crossing his fingers for rain and wind to stir up waves and help oxygenate the Lombard Lagoon, a 4.35-acre pond no deeper than 6 feet and fed by stormwater.
Courtesy of dailyherald.com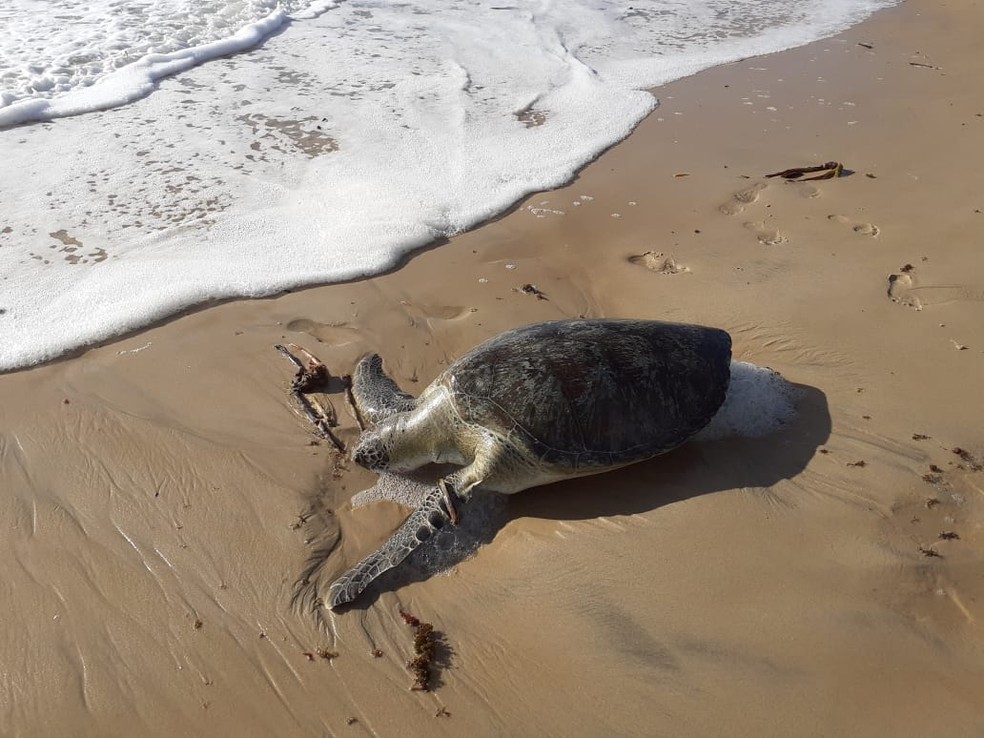 Green sea turtles are found dead in Cabo de Santo Agostinho, Greater Recife – Photo: Felipe Brayner / Press
Between June 2 and July 11, 32 green sea turtles died in Cabo de Santo Agostinho , Greater Recife , from Itapuama Beach to Gaibu Beach. The number of deaths was accounted for by the NGO Onda Limpa for Future Generations, which denounces the number as atypical.
Biologist Felipe Brayner, 40, is the NGO member responsible for voluntary monitoring of these animals.
"I do not have control of all animals. Of course, this number is much higher. Depending on a tricycle and other objects to cover the entire municipality of Cabo de Santo Agostinho, is almost impossible," he says.
According to the biologist, most (88%) of the 32 reported deaths in the area are caused by asphyxiation of animals when ingesting plastics thrown into the sea.
"Turtles' favorite food is jellyfish. Plastic simulates the same movement in the sea and ends up confusing these animals," he says.
Felipe Brayner says that the green species is more vulnerable because it is in the coastal part and ends up being hit hardest. Another cause of turtle death is predatory fishing.
"Why preserve? Why not discard garbage? People need to learn to live without taking the space of animals," he says.
For the biologist, awareness is one of the tools to prevent deaths. "Actions could be taken in state and local schools and in fishermen's colonies to teach networking techniques. But I think the most important work is with children, with future generations," he says.
Courtesy of g1.globo.com
Vezirköprü district of Akcay Akkaya Dam Lake, shore dead carp fish hit. Bad smells spread to the environment due to dead fish.
Citizens on the notice of teams from the Directorate of Agriculture and Forestry, the dam found in the pond.
Teams, fish and water samples were taken, launched an investigation. Announcements made in the district, fishing in the region was banned.
Courtesy of ensonhaber.com
The re-occurring sulfur bursts in Lake Batur, Kintamani, have impacted the deaths of thousands of fishes cultivated by farmers in floating nets (KJA). Fish farmers also lose up to tens of millions rupiah.
The most severe areas are affected by sulfur bursts, namely Banjar Seked, Batur Tengah village. The phenomenon of sulfur bursts causes fish to die sporadically. I Ketut Wania, a fish farmer in Banjar Seked, the most enduring loss due to sulfur burst phenomenon. About 2.5 tons more of his fish are ready to harvest, die.
Encountered Monday (15/7), Wania revealed, a burst of sulfur in Lake Batur knew it began to emerge since early Sunday. The sulfur bursts cause many dead fish. A mass fish death in KJA was known Monday morning when checking into the hospitality. "The many dead fish that are ready to harvest ages 7-8 months. From 34 KJA holes, which are ready to harvest there are two holes. Each hole contains 4-5 thousand tails, "he explained.
While the fish that are under the age of 4 months can still survive. According to him, fish whose age is still more strong to endure when the sulfur bursts occur, because it is more often on the surface of the lake.
Due to the sulfur burst phenomenon, he now has to bear losses of up to Rp 70 million. To minimize the death of other fish, he was forced to stop activities in KJA including not feeding the fish during sulfur bursts. "Because when we approach the Keramba, fish will descend to the bottom of the lake, and it causes fish to lack oxygen," said Wania.
According to him, this burst of sulfur is a natural phenomenon that occurs every year. Two years ago, the sulfur bursts in lake Batur were quite severe, but in Banjar Seked area it is safe from the impacts of sulfur.
Courtesy of bisnisjakarta.co.id
Big losses unprecedented, the budget is exhausted
The latest statistics from the Ministry of Agriculture and Rural Development show that, until now, cholera pig in Africa (DTLCP) has been discharged at 5,422 communes, 513 districts of 62 provinces and cities; The total number of infected pigs must be destroyed is 3.3 million. Currently, only the whole province of Ninh Thuan has no DTLCP disease yet.
It is worrisome that 106 communes of 22 provinces and cities have epidemics that have passed over 30 days but then the disease has returned.
Also according to the Ministry of Agriculture and Rural Development, the Red River Delta is also heavily damaged by African cholera epidemic, many localities lose up to 30-40% of the total herd, the reserve budget for the epidemic prevention has been exhausted. .
At the meeting of DTLCP, the Minister of Agriculture and Rural Development Nguyen Xuan Cuong admitted that no epidemics have caused great harm, making it difficult to deal with such epidemics. There are also no types of epidemics for production, but the political system must take part, to constantly change the direction, the localities create and adjust themselves to deal with the disease.
Mr. Cuong also said that DTLCP had 160 official days since the first outbreak appeared in Hung Yen. Up to now, the damage has been extremely heavy, greatly affecting people's livelihood, because the livestock industry in our country is mainly small-scale farmers. That is not to mention the cost of prevention and destruction of sick pigs.
"There are provinces that use the entire reserve budget to support but only meet a small part of the damage caused by this disease." Mr. Cuong commented, the development has not stopped, must determine living with this disease.
Courtesy of cafef.vn