Archive | October 12, 2019
An unusually early snowstorm crippled parts of the Northern Plains on Friday, bringing heavy gusts of wet snow and plummeting temperatures across the central United States, according to the National Weather Service.
Forecasters were calling the expected October snowfall across parts of North Dakota "historic," and predicted that the storm could deliver as much as three feet of snow to parts of north central North Dakota, where blizzard warnings were in effect.
By Friday evening, Langdon, N.D., a city about 120 miles northwest of Grand Forks, had seen an accumulation of 27 inches, Greg Gust, a warning coordination meteorologist at the Weather Service in Grand Forks, said. The previous record snow total over more than one day for the city was 22.5 inches, set on April 8, 1997.
The combination of leaves on the trees, heavy, wet snow and winds gusting up to 50 miles per hour in some places prompted concerns about power failures. But by Friday evening only 356 customers in the state were reported without electricity, according to the tracking website PowerOutage.
Blizzard warnings were in effect through early Saturday afternoon for portions of north-central North Dakota. Dozens of schools and businesses in the state were closed on Friday.
As the snow and winds reduced visibility to near zero, and icy roads became treacherous for drivers, the North Dakota Department of Transportation issued a "no travel" advisory Friday for the central and northeastern portions of the state.
Gov. Doug Burgum of North Dakota said that the state's emergency operations plan had been activated and that state agencies, as well as the National Guard, were standing by.
"The extraordinary intensity of this early winter storm threatens to test the limits of local response capabilities across a large portion of our state," Mr. Burgum said in a statement. "We're committed to a whole-of-government approach to protect human life and property and ensure our citizens have the resources necessary to respond and recover from this crippling event."
The storm stretched about 300 miles — between Aberdeen, S.D., and Winnipeg, Manitoba, and about 230 miles east of Minot, N.D., into the northwestern part of Minnesota.
Aaron Dye, a meteorologist for the National Weather Service in Aberdeen, said Eureka, a city in the northern part of South Dakota, had recorded 11.6 inches. Mr. Dye said that total was a preliminary figure and likely to rise. "I'm sure we'll be searching through the records tomorrow to see if any records were set once this event is over," he said.
Courtesy of nytimes.com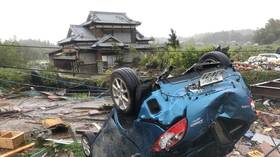 A car is overturned in Chiba Prefecture near Tokyo, Japan, on October 12. © Xinhua/Deng Min via Global Look Press
More than 1.6 million people have been ordered to evacuate as Japan gears up for potentially record breaking wind and rain as Typhoon Hagibis claims its first victim before even making landfall.
Winds are set to reach 216km/h (134mph) and trigger floods and landslides when the monster storm barrels into central or eastern Japan on Saturday, the country's Meteorological Agency has warned.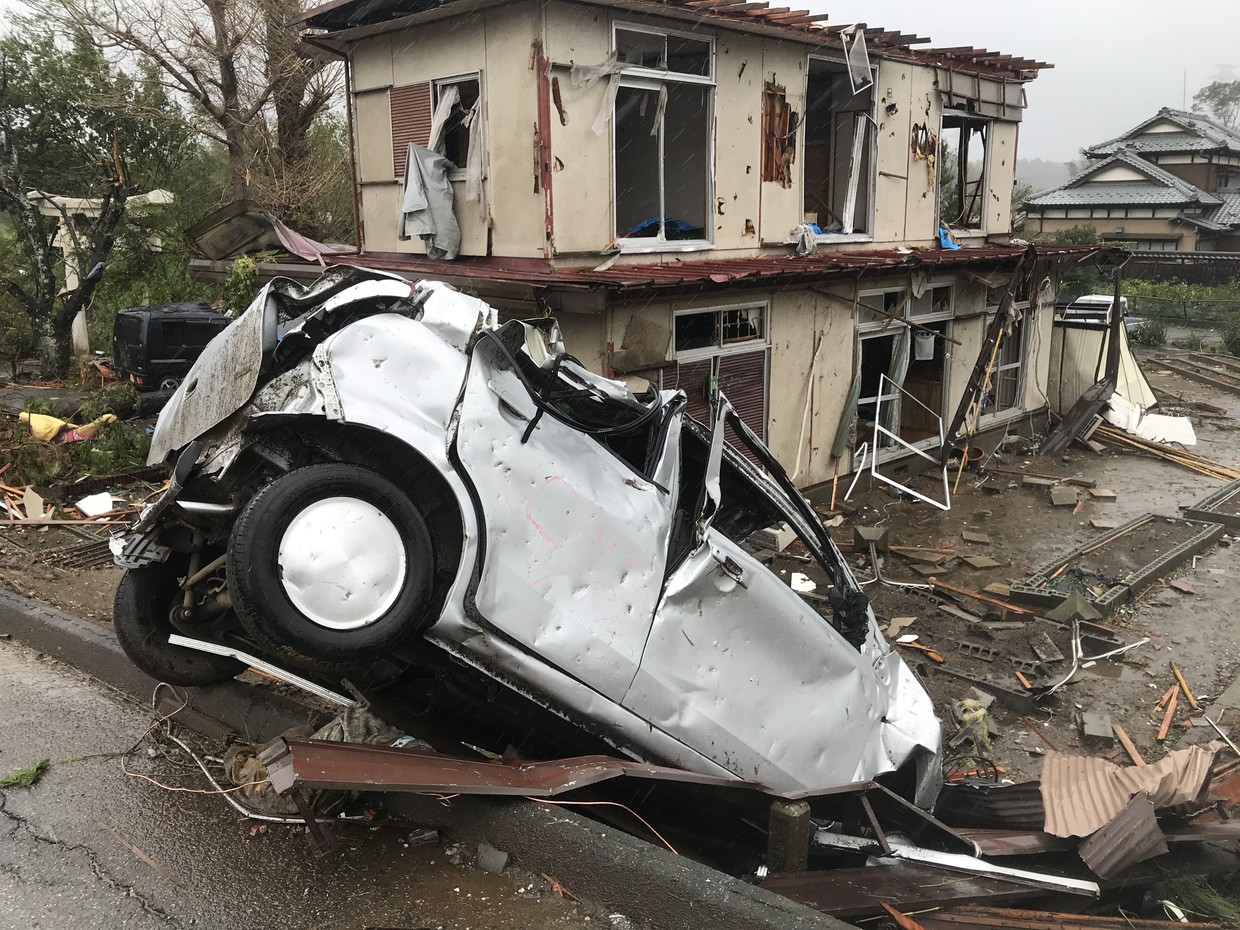 Chiba October 12. © Xinhua/Deng Min via Global Look Press
The sky turned a dark shade of purple on Saturday evening and residents shared striking images of the startling specticle on their social media platforms.
Ahead of the massive storm crashing into the main island of Honshu, it already claimed its first victim as a man was killed when a vehicle toppled over in heavy winds in Chiba, east of Tokyo, NHK News reports.
Hagibis is forecast to be the first storm rated "very strong" to hit Honshu since the category system was introduced in 1991. The Meteorological Agency said it could bring record rainfall on a par with a deadly typhoon in 1958 that triggered mudslides in Kanto and flooded the Kano River in Shizuoka Prefecture, leaving 888 dead and 381 missing, AFP reports.
Tens of thousands of homes are already without power and transport systems, factories and shops have been shut down. The typhoon has also disrupted the Japanese Grand Prix, forced the cancellation of two Rugby World Cup matches and grounded more than 1,600 flights.
Courtesy of rt.com