282 #seals found dead during past year on beaches in #Alaska, #USA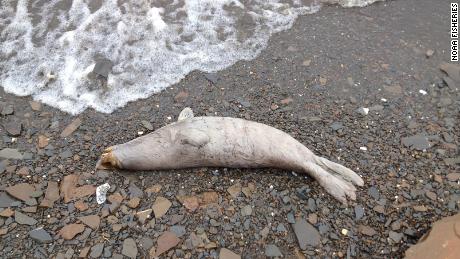 U.S. government biologists are investigating the deaths of nearly 300 Arctic ice seals found on Alaska beaches since last summer, federal officials said on Thursday.
The National Oceanic and Atmospheric Administration on Thursday declared the seal die-off an "unusual mortality event," a designation that allows extra resources to be used to determine the cause.
So far, 282 seal carcasses have been discovered since June 2018. Fewer than half – 119 – were found last year, NOAA said. That is five times the normal morality rate for such seals, according to NOAA.
The carcasses likely account for a small fraction of the total number of dead seals, as scientists assume the majority of stricken animals would sink after dying or otherwise never make it to shore, said Julie Speegle, an Alaska spokeswoman for NOAA's Fisheries Service.
The die-off comes as Arctic Alaska sea ice is scarce and sea temperatures are unusually high – conditions most scientists attribute to global warming brought on by human-caused increases of heat-trapping greenhouse gases in Earth's atmosphere.
Those warm conditions may be a possible cause of the die-off, Speegle said.
"That's definitely one of a number of factors," she said.
The die-off has affected bearded seals and ringed seals, which are listed as threatened under the U.S. Endangered Species Act, and spotted seals, which are not. All three species depend on floating sea ice for resting, pup-rearing and other critical life functions.
Courtesy of cnbc.com