TV #chef #GaryRhodes dies aged 59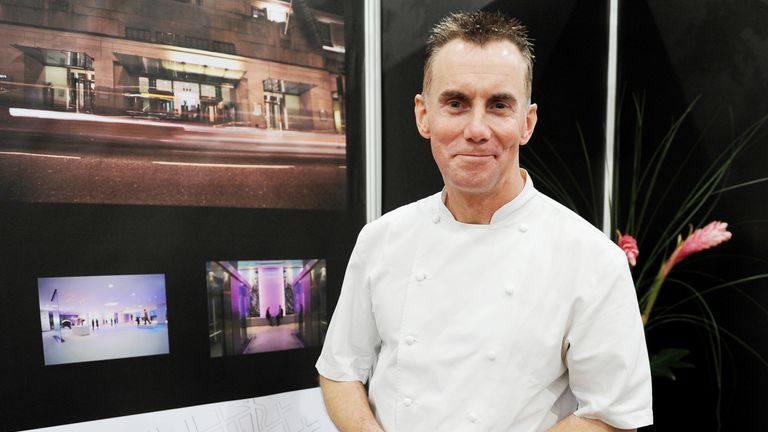 Celebrity chef Gary Rhodes has died at the age of 59.
The restaurateur, who appeared on TV programmes including Rhodes Around Britain, MasterChef and Hell's Kitchen during his celebrated cookery career, passed away yesterday.
His family said they were "deeply saddened" by his death.
In a statement, they said: "The Rhodes family are deeply saddened to announce the passing of beloved husband, father and brother, Gary Rhodes OBE.
"Gary passed away last evening, Tuesday 26 November, at the age of 59, with his beloved wife Jennie by his side. The family would like to thank everyone for their support and ask for privacy during this time."
At the time of his death, Rhodes ran restaurants at two hotels in Dubai, which also released a joint statement.
The teams at Grosvenor House Dubai and Le Royal Meridien Beach Resort and Spa said they were "devastated" to learn of his death and hailed him as a "true culinary legend" and "very dear friend".
They said: "No words can express our sadness at Gary's death or our gratitude for the opportunity to work with him.
"Our thoughts and prayers are with the Rhodes family."
Tributes have been paid from famous chefs in the UK and abroad, with Rhodes having built up a strong international reputation thanks to his restaurants overseas.
Gordon Ramsay posted on Instagram: "We lost a fantastic chef today in Gary Rhodes. He was a chef who put British cuisine on the map. Sending all the love and prayers to your wife and kids. You'll be missed."
Also on Instagram, Jamie Oliver described Rhodes as an "incredible ambassador for British cooking" and a "massive inspiration to me as a young chef".
He added: "He reimagined modern British cuisine with elegance and fun. Rest in peace Chef."
Polish chef Damian Wawrzyniak, who has cooked for the Royal Family and at the London Olympics, tweeted: "I came to this country over 15 years ago, all I knew it was Gary Rhodes, Nico Ladenis and Pierre Koffmann!
"True culinary king just passed away, I am sure Mise en place is already prepped in heaven for you Chef!"
Cook and Sunday Brunch host Simon Rimmer said Rhodes was "a lovely man who gave me great advice when I first started out", adding: "Love and thoughts to Jennie and the boys."
Former Ready Steady Cook presenter Ainsley Harriott tweeted: "So sad to hear the news about Gary Rhodes. A true culinary icon and a lovely man.
"Sending my love and thoughts to his wife Jennie and their boys. RIP, my friend. xx."
Andrew Castle, who competed alongside Rhodes on Strictly Come Dancing in 2008, tweeted: "So very sorry sorry to hear of the death of Gary Rhodes. A charming man, kind and thoughtful.
"With all our love to Jennie and the two boys Sam and George. Gary and I were terrified on Strictly together and became very close. A terrible loss."
London-born Rhodes grew up in Kent before embarking on his career, which took off soon after he completed his cookery training at a college in Thanet.
He was a chef at the Amsterdam Hilton and Capital hotels before becoming head chef at the Castle hotel in Taunton, where he retained its Michelin star at the age of just 26 and developed his famous passion for British food.
According to The Caterer magazine, he returned to London in 1990 to become head chef at Greenhouse in Mayfair, which won its first Michelin star six years later.
He went on to launch several restaurants bearing his name, including Rhodes & Co, Rhodes 24 and Rhodes W1.
His first overseas eatery opened at the Calabash hotel in the Caribbean in 2004, which was followed by the cruise ship restaurant Arcadian Rhodes in 2005.
Later restaurants named after him included the Rhodes D7 in Dublin, the Rhodes Mezzanine in Dubai, and the now closed King Rhodes and Rhodes South in Dorset.
Jaideep Bhatia, PR director of the Grosvenor House Dubai, said Rhodes was working "until the day he died".
Courtesy of Sky News