Archive | Aviation Orange Alert
RSS for this section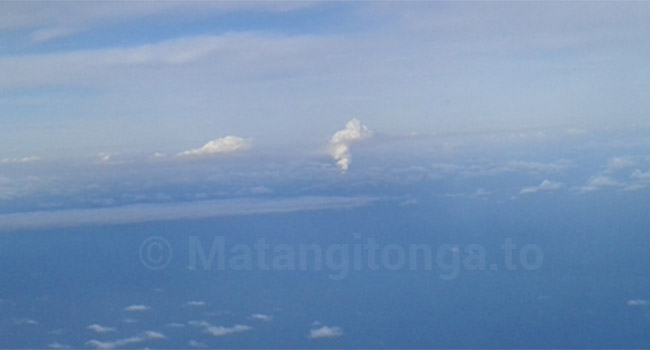 Metis Shoal Volcano smoke eruption. Photo by Captain Samuela Folaumoetu'i, Real Tonga Airlines.15 October 2019
An intermittent smoke eruption towering to 15,000-17000ft above the summit of the Metis Shoal Volcano, Ha'apai, this morning, has an increased likelihood of an eruption, with an aviation VONA alert now increased to Orange, the Tonga Meteorological Service advised at 10:20am.
Metis Shoal submarine volcano is located near Kao in Tonga's Ha'apai Group, and is famous for its previous pumice eruptions that have created large pumice rafts.
Real Tonga pilots flying between Tongatapu and Vava'u on flights R4801 and R4802 this morning observed the intermittent smoke eruption, with continuous white plumes of wispy ash cloud.
"We just reconfirmed with the pilot on his way back that 25-30nm north of Kao, towering smoke erupting up to 15,000-17,000ft," Tonga Met reported this morning, before upgrading an earlier Yellow alert to Orange.
Tonga Met Director, 'Ofa Fa'anunu said that so far there had been no earthquakes detected in the area of the smoke eruption.
"The Town Officer of Fotuha'a Island, Sifa Fuakolo, first reported to us 8:30pm last night but [we] couldn't verify till this morning's Real Tonga flight."
He said Tonga Met will issue a new Volcano Observatory Notice for Aviation (VONA) this evening, after domestic flights come in and any other shipping reports or observations are received.
Courtesy of matangitonga.to