Archive | Military Deployment Alert
RSS for this section
The French government has placed the entire nation on high alert after three people were killed in a suspected terrorist attack in Nice. Police in Avignon later gunned down an assailant in a separate incident.
Prime Minister Jean Castex announced on Thursday that the country's Vigipirate national security alert system would be set at "attack emergency," the highest level of the security protocol. The alert system was raised from "enhanced security – risk of attack," French media reported.
Vigipirate is a French acronym for "vigilance and protection of installations against the risk of terrorist bombing attacks."
Three people were killed hours earlier at a church in Nice. The suspect shouted "Allahu Akbar" as he used a knife to attack the congregation. Later, French media reported that a knife-wielding man was shot and killed after attempting to attack police in the city of Avignon.
Castex condemned the "cowardly" and "barbaric" attack in Nice, and said that the whole country was mourning for those who were killed.
The incidents occurred just one day after the French interior minister warned that the terrorist threat in the country is "very high." The French government has vowed to rein in Islamic extremism after a schoolteacher, Samuel Paty, was beheaded by a radicalized Chechen refugee earlier this month. Paty's murder was thought to have been provoked by his decision to show caricatures of the Prophet Mohammed to his students during a lecture about freedom of speech.
Courtesy of rt.com
THE MILITARY has been deployed to help police patrols maintain the coronavirus lockdown over the Easter weekend.
Police and military force will form joint boat patrols in the southwest coast. Authorities are warning people not to violate the lockdown during the weekend after the UK saw a record number of coronavirus deaths.
Police forces have faced criticism over "heavy handed" lockdown enforcement.
Downing street has warned police after an officer tweeted that they were patrolling inside supermarkets against non-essential shopping.
The Cambridgeshire police post stated that officers had visited a Tesco at Barhill to make sure people were following social distancing regulations, and that "the non-essential aisles were empty".
The prime minister's spokesman said: "We set out a list of shops which could remain open and if the shops are on that list then they are free to sell whatever they have in stock. Obviously provided it's legal to do so."
Social media users then took to Twitter to criticise the move, adding that officers' time could be spent on other issues.
A spokesman for the National Police Chiefs' Council said that officers were not controlling the supermarket as it had its own security personnel.
He reassured that police officers would only go into supermarkets if there was an incident or if supermarket staff called them.
Cambridgeshire police said that the original tweet had been made by an "over exuberant officer".
They added: "For clarification, the force position, in line with national guidance, is that we are not monitoring what people are buying from supermarkets."
The officer's original post has since been deleted.
In South Yorkshire a police officer was filmed admonishing a parent for allowing their children to play on their property's front garden.
The South Yorkshire force said that the encounter had been "well intentioned but ill informed".
The officer told the family: "You do not want your children getting the virus, it does not stop in front of your garden."
Police in Durham told cyclists in a tweet: "If you haven't got blue lights on your bike, you probably shouldn't be on the roads this weekend."
One user replied: "Errrm, cycling is a form of exercise. Or what if people are going shopping?"
In Brighton police near sea front used loudspeakers to give warning messages and deter visitors.
Paul Netherton, deputy chief constable of Devon and Cornwall police, said: "We are working with the Ministry of Defence police this weekend.
"Their marine fleets from bases in Portsmouth and Plymouth will be operating along the Dorset, Devon and Cornwall coastlines ensuring people do not gather unnecessarily on beaches. They have tannoy and can tell people to move on."
In London, Camden Council and the Royal Parks joined together to paint signs on the grass at Primrose Hill that read: "Stay 2m apart, protect the NHS," ahead of the nice weather that might prompt large gatherings.
Council officials in Bournemouth taped off seafront seats, while 2,000 beach huts are shuttered.
In Wales road blocks were put in place to keep tourists out of seaside towns.
Pembrokeshire Coast National Park Authority announced: "We're closed."
Courtesy of express.co.uk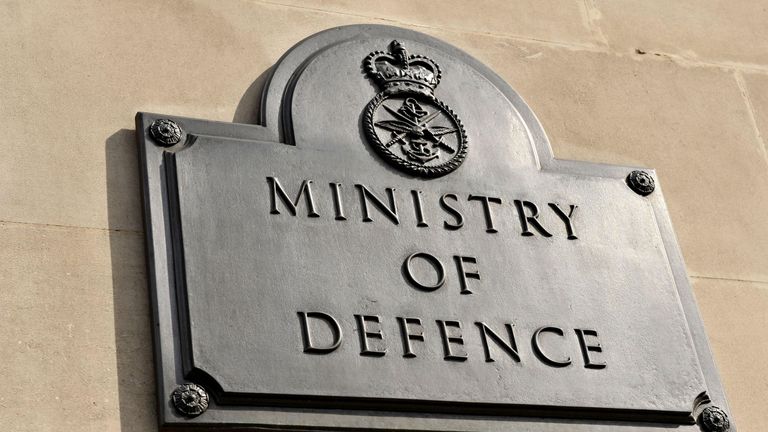 A team of 3,000 Army, Navy and Air Force reservists are to join the the coronavirus response.
The Ministry of Defence has decided to mobilise the troops to bolster the public effort against the viral disease.
The Reserve Forces will be used to help deliver a range of activities, such as providing additional medical and logistical support for the NHS.
They will also act as liaison officers and deploy specialist skills such as engineering and accounting.
Minister for the Armed Forces James Heappey said: "Our Reservists are a truly remarkable group of people, each with their own skills and experience from their civilian careers beyond the armed forces.
"At times like these, to be able to draw on that pool of talent and expertise is invaluable.
"I know that our Reservists will answer the nation's call with real enthusiasm and will play a key part in our response to Covid-19."
Only Reservists with specialist skills that meet specific requests for help from other government departments will be called out.
No one already working for the NHS or delivering front line services will be mobilised to make sure these key workers can continue their efforts.
It does not signal the first intervention the military has made in the effort against the virus.
Army Puma helicopters based at Kinloss Barracks have supported a Scottish ambulance service trial of the "Epishuttle" medical isolation and transportation system.
They have worked with critical care teams based in Aberdeen and Glasgow to transport patients to emergency care facilities.
There are "no current plans" to assist the police in keeping public order, the MoD has said, but "armed forces stand ready to assist" required.
On March 18 Defence Secretary Ben Wallace announced that a Covid Support Force would assist civilian authorities, with 1,000 troops having already joined the campaign before this evening.
Many of them have helped build NHS Nightingale in East London.
Lt Gen Ty Urch said: "The expansion of the NHS Nightingale project to other parts of the country is an absolute necessity at this time.
"The UK Armed Forces will do whatever is required to support the Scottish Government and the Health Services across the United Kingdom during this crisis, and bring this vital capability to wherever it is needed in our combined effort against coronavirus."
Courtesy of mirror.co.uk
THE ARMY have been drafted in to organise food and medicine deliveries in an extraordinary move to protect 1.5 million of the most vulnerable from the deadly coronavirus outbreak.
Boris Johnson said the drastic measure was needed to help "shield" the most at-risk people who should now stay at home for 12 weeks.
The dramatic intervention came as the Prime Minister gave the public a final warning to take social distancing measures seriously otherwise he will place the UK into lockdown within 24 hours.
Mr Johnson said he will enforce Italian-style curfews after tens of thousands continued to flout anti-coronavirus advice.
Ramping up Britain's defence against the deadly outbreak the PM said he would act to close open spaces, parks and playgrounds and limit all movement outside homes if people continued to act foolishly.
His stark warning came as the UK death toll rose by 48 in just 24 hours to 281 people, with more than 5,600 confirmed cases.
One of the deaths included a person aged 18 with an underlying health condition.
They are thought to be the youngest person with the virus to have died in the UK so far.
Despite repeated warnings people across the UK flocked to beaches and parks up and down the country yesterday to take a stroll with their loved ones for Mother's Day, despite social distancing advice from the government warning people to stay at least two metres apart.
Mr Johnson said that even though he understood the physical and mental health benefits of open spaces, he would take drastic steps to protect health.
He suggested the UK could copy some of the more extreme lockdowns in other parts of Europe, such as Italy, Spain and France.
"I don't think you need to use your imagination much to see where we might have to go," he said.
"We will think about this very, very actively in the next 24 hours.
"We need to think about the kinds of measures that we have seen elsewhere, other countries that have been forced to bring in restrictions on people's movements altogether.
"I don't want to do that because I have tried to explain the public health benefits."
"Even if you think you are personally invulnerable, there are plenty of people you can infect," he said.
"Take this advice seriously. Follow it. Because it is absolutely crucial."
"We will keep the implementation of these measures under review and of course we will bring forward further measures if it is necessary."
Mr Johnson was at pains to hammer home the point, adding: "If people cannot make use of parks and playgrounds responsibly, in a way that observes the two-metre rule, then of course we are going to have to look at further measures."
The warning comes after pictures showed people across parts of the UK visiting parks and open spaces in large numbers over the weekend.
Snowdonia National Park said the area "experienced its busiest ever visitor day in living memory" on Saturday, with other beaches and mountain summits busy.
In London, people were still out and about despite criticism from major Sadiq Khan who said Londoners needed to stay in to save lives.
Cumbria Police said despite Government advice to avoid non-essential travel, the Lake District and other tourist hotspots in the UK were experiencing an "influx" of visitors.
As the outbreak in the UK continues to accelerate a massive new effort has been unleashed to help protect 1.5 million of the most vulnerable people in England.
They will be sent letters by the NHS "strongly advising" them not to go out for at least 12 weeks from today.
A network of community hubs is being set up across the UK to ensure the delivery of food supplies at-risk people with serious medical condition.
Those at-risk people include those with specific cancers, severe respiratory conditions and people who have received organ transplants.
Councils, pharmacists and members of the Armed Forces will help this work and there will be opportunities for members of the public to volunteer.
Setting out the support being arranged for people with health problems, communities secretary Robert Jenrick said: "We will be creating a network of local hubs, covering the whole country.
"This will require a major national effort in a very short period of time.
"Medicines will be delivered by community pharmacies. Groceries and essential household items will be delivered by local councils and food distributors, working with supermarkets, to ensure that nobody needs to worry about getting the food and essential items that they'll need.
"These parcels will be left on the doorstep.
"The government, the food industry community pharmacists, local councils and emergency services are working round the clock to get this scheme off the ground, members of the armed forces are already supporting this effort, including some of the finest military planners in the world."
Mr Johnson said that the "shielding" strategy would "do more than any other single measure that we are setting out to save life, to reduce infection and to slow the spread of the disease".
Speaking at the Downing Street briefing, England's deputy chief medical adviser Dr Jenny Harries said around 12 percent of adult critical care beds in hospitals in England are currently occupied by patients with the virus.
That number is expected to rise drastically, she added.
Courtesy of express.co.uk
SCOTLAND has drafted in military support amid the escalating coronavirus crisis, after First Minister Nicola Sturgeon revealed that the death rate has risen to 10.
Nicola Sturgeon revealed this afternoon that Scotland had called on the military to help amid the ongoing coronavirus pandemic. Speaking at a press conference, the Scottish First Minister told reporters that the military were needed to evacuate a coronavirus patient from an island. This comes as Scotland's Chief Medical Officer Dr Catherine Calderwood told the same press conference that around 54,000 people will die from the virus in Scotland.
Ms Sturgeon said: "We've had to call on military help to transport a patient from one of Scotland's islands for treatment."
The patient was transferred to the mainland for treatment, as she urged people not to try to "outrun" the virus by fleeing to remote areas.
It marks the first confirmed case of military action in the UK in the struggle against the coronavirus as the Downing Street today refused to rule out an Italian-style lockdown.
During her press conference, Mrs Sturgeon also confirmed that the coronavirus death toll had increased to ten people.
She also said: "Advice should not be considered optional. Life shouldn't feel normal right now.
"If your life feels entirely normal ask yourself if you're doing the right things.
"Don't gather for parties at people's houses. Beaches should not be busy. Parks should not be full.
"It's okay to be outside but don't crowd together in the park or on the beach."
In a list of announcements, Ms Sturgeon claimed that ferries in Scotland are now only for "essential travel," with tourists banned for boarding them.
The SNP leader also took a swipe at pubs which refused to close down despite her instruction to do so.
She said: "A tiny minority of pubs stayed open. Let me blunt: in doing so they put lives at risk. Close now."
She added that emergency powers will be activated in the coming days to force licensed premises to close.
Ms Sturgeon says the most clinically vulnerable people in Scotland – around 200,000 people including cancer patients – will be contacted and offered a range of support.
She added that some of these people will be given strict instructions to self-isolate.
She explained that the "extraordinary efforts this group will have to go through to protect themselves" should demonstrate to healthy people how serious the situation is.
Dr Calderwood told the reporters that the current best estimate of death rate from coronavirus is "around 1 percent," which amounts to around 54,000 people.
Courtesy of express.co.uk
Key military officials are to help ensure food and medicines reach vulnerable people isolated at home during the coronavirus crisis, as part of a nationwide campaign to protect more than a million people most at risk of being hospitalised.
Community pharmacies, voluntary groups and food retailers are in talks with the government to ensure essential items reach people being told to remain in their home. Those believed to be at most risk are being contacted on how best to protect themselves, and being strongly advised to stay home for at least 12 weeks.
It marks the latest extraordinary action to tackle the crisis, after a week of interventions that have reshaped day-to-day life in Britain. In an attempt to persuade the public to obey social distancing measures designed to slow the spread of the virus, Boris Johnson on Saturday night pleaded with the public not to visit their mothers on Sunday for Mother's Day. He warned anyone elderly or frail was "much more likely to die" from infection. He also had a grave message about the progress of the disease.
"We cannot disguise or sugar-coat the threat," he said. "The numbers are very stark, and they are accelerating. We are only a matter of weeks – two or three – behind Italy. The Italians have a superb healthcare system. And yet their doctors and nurses have been completely overwhelmed by the demand. The Italian death toll is already in the thousands and climbing. Unless we act together – unless we make the heroic and collective national effort to slow the spread – then it is all too likely that our own NHS will be similarly overwhelmed."
Courtesy of theguardian.com
The army will be used to impose the lockdown in Lombardy – the region of Italy worst hit by the coronavirus outbreak.
"The request to use the army has been accepted… and 114 soldiers will be on the ground throughout Lombardy," regional president Attilio Fontana told a news conference.
"It is still too little, but it is positive."
Lombardy has also asked the government to further tighten the restrictions already in place, which include the closure of
all non-essential commercial activities and a ban on public gatherings.
Mr Fontana, without giving numbers, added that the virus is still spreading in Lombardy which has so far registered the highest number of cases and deaths in Italy.
"Unfortunately we are not seeing a change of trend in the numbers, which are rising," he said.
Courtesy of Sky News
As many as 150 troops are learning to drive oxygen tankers to supply hospitals treating coronavirus patients. They will form part of the new "Covid Support Force"
The Ministry of Defence has put 20,000 troops on standby to deal with the coronavirus crisis, it has been reported this evening.
As many as 150 troops are learning to drive oxygen tankers to supply hospitals, according to The Times.
The troops will form part of the new "Covid Support Force".
Today the death toll in the UK reached 104 with that figure expected to rise in the coming days and weeks.
Defence Secretary Ben Wallace said: "The men and women of our Armed Forces stand ready to protect Britain and her citizens from all threats, including Covid-19.
"The unique flexibility and dedication of the services means that we are able to provide assistance across the whole of society in this time of need.
"From me downwards the entirety of the Ministry of Defence and the Armed Forces are dedicated to getting the nation through this global pandemic."
Major General Charlie Stickland Assistance Chief of the Defence Staff Operations and Commitments said: "Putting more personnel at a higher state of readiness and having our Reserves on standby gives us greater flexibility to support public services as and when they require our assistance.
"The COVID Support Force, potentially drawing upon our highly skilled scientists at Dstl or oxygen tanker drivers, will form part of a whole force effort to support the country during its time of need.
"Our servicemen and women are committed to maintain our operational output and delivering any support the Government requires."
The news comes hours after it is said that government officials are braced for coronavirus "lockdown" measures to be ramped up in London within days.
Boris Johnson tonight did not rule out putting London on lockdown – and said "further and faster measures" may be needed.
Whitehall sources today told the Mirror lockdown-style measures in London – which Boris Johnson admitted is "a few weeks ahead" of the rest of the country – are "imminent".
A senior Downing Street source vehemently denied anything had been decided.
Britain's government set out emergency legislation on Tuesday to tackle the growing outbreak, with measures including giving powers to police andimmigration officers to detain people and put them in isolation to protect public health.
"The new measures we will be introducing in the Emergency Coronavirus Bill this week will only be used when it is absolutely necessary and must be timed to maximise their effectiveness," health minister Matt Hancock said in a statement.
The legislation, which also includes measures to allow recently retired National Health Service staff and social workers to return to work, will be brought before parliament tomorrow.
Courtesy of mirror.co.uk
THE Ministry of Defence is planning to deploy 4,000 medics to help the struggling NHS deal with the coronavirus pandemic.
GPs, surgeons and nurses are being lined up as part of drastic measures to stop the spread of the killer bug.
Britain could be stuck in a state of "permanent outbreak" and lockdown until a vaccine is found – which is at least a year away – experts have warned.
Cases in the UK have soared to 1,543 and 55 people have now died from the disease as the pandemic continues to rampage through the country.
The MOD has readied 300 GPs, dozens of surgeons, 1,200 nurses and 2,500 combat medical technicians amid fears the NHS will buckle under the pressure.
According to The Times, the Department of Health will have to make a formal request under "military aid to the civil authorities" protocol to trigger the support.
The plans fall under Operation Broadshare – the Ministry of Defence's response to the coronavirus outbreak.
It is understood the medical personnel would be placed in existing hospitals – rather than in newly-built field facilities over fears this could drain resources from the NHS.
The NHS is already planning to cancel or delay all non-emergency operations to free up vital resources key to combat the coronavirus pandemic.
The Government has also asked manufacturers to step up efforts to help in the production of kit needed.
Health Secretary Matt Hancock said surgery that was not time sensitive would either be cancelled or postponed.
He said: "The measures that I've just outlined are unprecedented in peacetime.
"We will fight this virus with everything we've got.
"We are in a war against an invisible killer and we've got to do everything we can to stop it.
"We will be cancelling or postponing non-time sensitive elective surgery and the NHS will make a statement about this later today."
There are also fears hard-working NHS staff could fall ill while treating the disease and have to self-isolate for two weeks.
It comes after the PM drastically ramped up Britain's battleplan yesterday – shutting down mass gatherings and urging everyone to stop non-essential travel and contact with others.
He said that means all Brits (around 66million people) staying out of pubs, clubs, theatres and cinemas for weeks – and potentially months into the summer. All who can can should work from home, he said.
The over 70s, those who are pregnant, and anyone with underlying health conditions (around 20million Brits) should try not to leave their homes if they can, and avoid crowded spaces immediately.
This will continue for the "long haul" – likely weeks or months.
And those with severe illnesses like cancer (around 1.4million Brits) must start cocooning themselves in their homes and get food delivered in from this weekend.
Researchers involved in the government curbs on daily life now estimate 260,000 people would have died under the previous, less restricted, plans.
The team from Imperial College London said the new tighter controls could limit deaths to around 20,000 – with the leading professor admitting the best case scenario would still see tens of thousands die.
Courtesy of thesun.co.uk