Archive | Flamingos
RSS for this section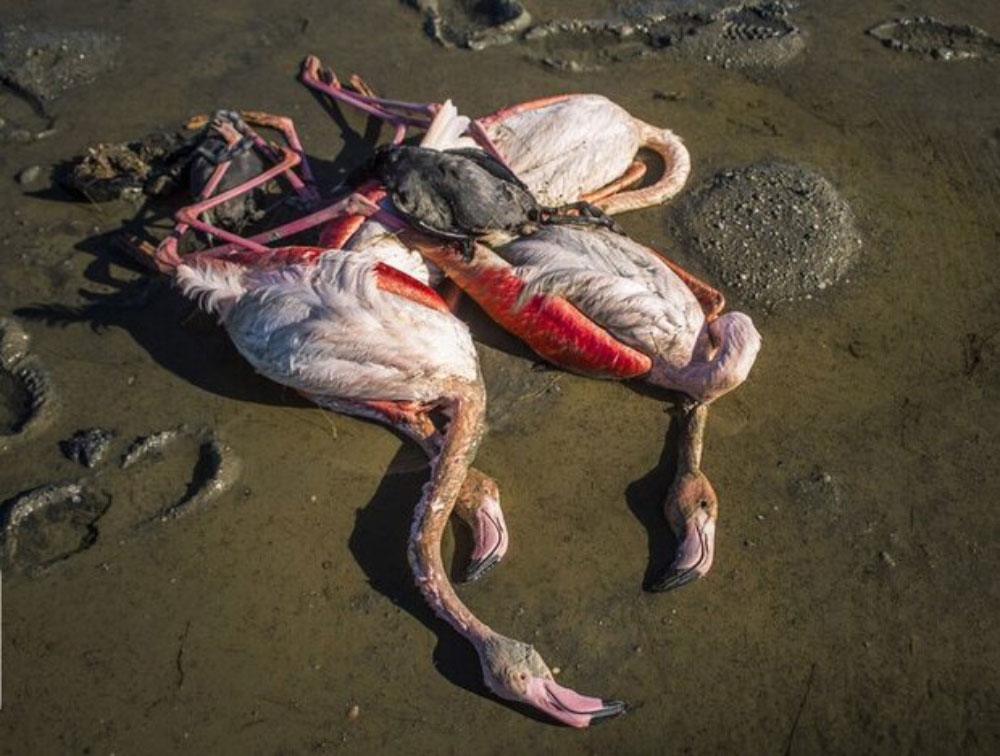 Dead Greater Flamingos at Miankaleh, Iran, this week (ISNA Iran)
Upward of 10,000 birds have been found dead at the Miankaleh peninsula, situated on the Caspian Sea shore in north-east Iran, in recent days.
According to Hossein-Ali Ebrahimi, head of Mazandaran province's department of environment, the corpses involve many different species, including Greater Flamingos, as well as ducks and grebes.
Ebrahimi noted that a group of experts from Iran's Department of Environment (DoE) has been sent to Mazandaran province to investigate the cause of the migratory birds' deaths. The carcasses were being collected for testing, with most being buried with sanitary precautions taken.
He said the DoE has banned hunting of migratory birds in the eastern parts of the province, where Miankaleh is located, until the investigations are carried out, adding that in order to maintain human health, the sale of any migratory birds in nearby cities would also be suspended until the exact cause of the deaths is known.
Influenza has already been ruled out as a cause of the mass die-off, but the reason for the shocking event remains unclear. While it is possible that this is a human-induced event, with deliberate poisoning carried out, the most likely explanation is natural water contamination through poisoning by algae and/or plankton, causing botulism. A similar event occurred in Rajasthan, north-east India, in November 2019.
Miankaleh is a narrow and long peninsula situated in the extreme south-eastern part of the Caspian Sea, covering an area of more than 68,800 ha. The peninsula is 48 km long, between 1.3 and 3.2 km wide, and sets apart the Gorgan Bay from the Caspian Sea. The wetland there is a wildlife sanctuary and hosts huge numbers of waterbirds throughout the seasons.
Miankaleh was registered as a wetland of international importance under the Ramsar Convention in 1975. Then, in 1976, the peninsula was declared a biosphere reserve by UNESCO.
The reserve's ecological importance is particularly highlighted by the 250,000 migratory birds it hosts in winter, including Dalmatian Pelicans, Russian White-fronted and Greylag Geese, and White-headed Duck.
Courtesy of birdguides.com