Archive | Livestock
RSS for this section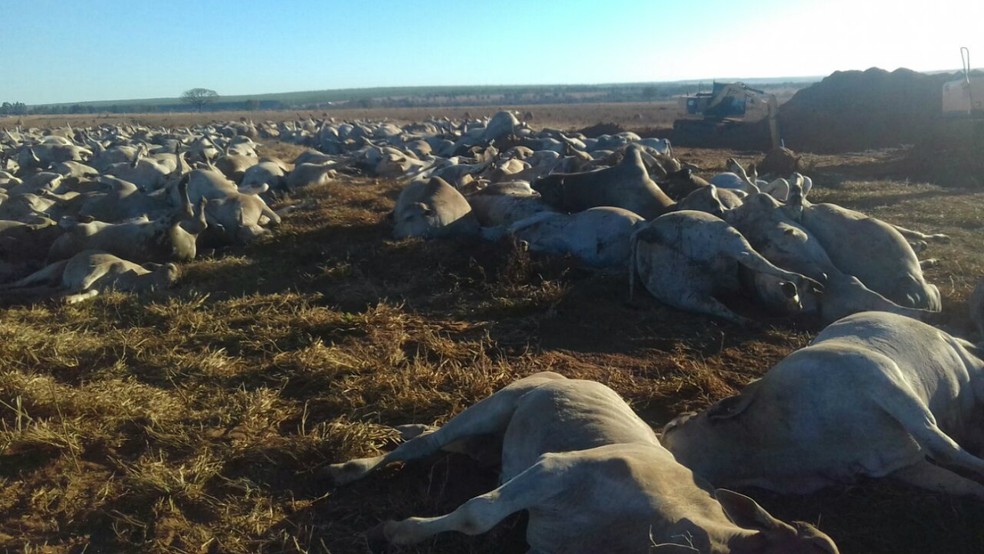 Animals died in a farm in Ribas do Rio Pardo and the suspicion is of intoxication by bacteria that causes botulism (Photo: Marca 7 / Divulgação)
The State Agency for Animal and Plant Health Protection of Mato Grosso do Sul (Iagro) is investigating the death of 1.1 thousand head of cattle in the confinement of Marci 7 Pecuária, at the Monica Cristina farm, in the municipality of Ribas do Rio Pardo, at About 40 kilometers from Campo Grande. As the animals were practically ready for slaughter, the estimate is that the death caused a loss of approximately R $ 2 million to the breeder Persio Ailton Tosi.
Iago CEO Luciano Chiochetta told the G1 that the killings began on Wednesday (2) and that on Friday (4) the owner informed the agency that he sent a team to the scene. The suspect, he says, is from botulinum toxin poisoning, which would have occurred when the animals ate moist corn silage, which was stunted.
The clinical suspicion of botulism, according to Chiochetta, is based on the symptoms that the animals presented when they were dying: staggering and paralysis of the hind limbs and then the lower limbs until they lay on the floor. Then the picture worsened with total paralysis and cardiorespiratory arrest.
He explained that a team from the Federal University of Mato Grosso do Sul (UFMS), which was on site before the arrival of the IAGRO technicians, collected samples that are being analyzed in the laboratories of the agency and will help confirm the suspicions of the cause of the Death of animals. "Liver and rumen samples were collected from dead animals, moist rations of corn, common silage, hay and water," he explains.
The CEO of Iagro comments that the suspects that the animals were intoxicated due to the ingestion of moldy wet silage because this product is the one that offered the most favorable conditions for the proliferation of the bacterium that causes botulism. "Another type of silage, corn drought, was offered in addition to cattle to other animals that showed no symptoms of intoxication. In addition, as soon as the feed was suspended with the moist feed, the deaths ended, but we continue to monitor, "he explained.
He also ruled out the possibility that the contamination occurred because of the water the cattle consumed because the reservoirs were recently cleaned and other livestock on the same product did not show symptoms of intoxication.
Chiochetta pointed out in relation to the death of the animals that it is a clinical suspicion of botulism and not an infectious disease. "Botulism is an intoxication that occurs by toxin, because of a bacterium that found ideal conditions to multiply. It is not transferable. The animal ingested food contaminated with the bacterial toxin ".
Courtesy of g1.globo.com