Archive | Sardines
RSS for this section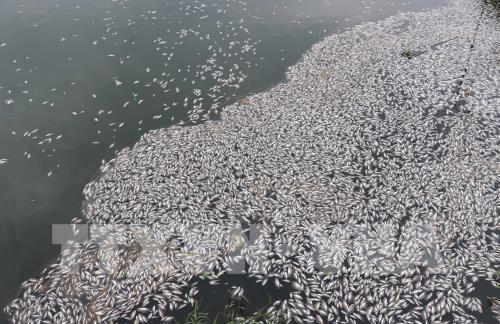 Sardines die in mass on Do river. Artwork: Nguyen Ly-VNA
On November 7, Chairman of People's Committee of Cam Thanh Commune (Hoi An City, Quang Nam Province) Nguyen Hung Linh said: " White dead fish floating in the section of Do river running through the territory between Cam Chau ward and Cam Thanh commune are sardines – a freshwater fish naturally living on this river, likely due to water pollution.
According to local people, from the afternoon of November 6 to November 7, on the Do river, the section running through Cam Chau ward and Cam Thanh commune, mass death of sardines occurred, causing environmental pollution and Affect fish culture in cages.
The People's Committee of Cam Thanh commune mobilized forces in place to remove dead fish in order to prevent the spread of pollution on a large scale; At the same time, it is suggested that the Department of Natural Resources and Environment of Hoi An city take samples of water for testing to determine the cause of sardines in mass death.
Prior to the information on some mass media suspecting that sardines died on the Do River due to electric fishing with a large capacity, Hoi An City Police Chief Dinh Xuan Nghi said that fish died due to electrical impulses. is without basis, because if there is the use of high-power pulse to catch fish, in addition to sardines, there will be many other fish on the Do River.
Courtesy of bnews.vn