Tag Archive | The Weather Channel
The perfect combination of alcohol, water and wind created firenados spiralling upwards
Footage has emerged of the extraordinary blaze caused by lightning striking a whiskey factory – sparking a 'firenado' of flaming alcohol to be sucked up into the sky.
A Kentucky warehouse, which produces Jim Beam bourbon, was battered by lightning, heavy rain and strong winds simultaneously in 2003. Aerial footage taken during the blaze has been obtained by The Weather Channel and shows how a river of alcohol and flames spewed forth from the burning factory.
The combination of wind, rain and whiskey meant that water laced with alcohol was whipped into a funnel- sparking the fire which tore through the factory.
The fire engulfed the Kentucky factory
It is believed that 800,000 gallons of alcohol spilled into a retention pond, causing the factory to be engulfed in a fire ball.
Fortunately, the building was situated close to a creek, meaning that the fire was eventually extinguished.  Not one was injured in the blaze.
The flames gathered on the surface of a nearby creek
However, the creek became contaminated and a number of fish were killed. The Jim Beam company has paid state authorities nearly $27,000 in clean-up costs.
The brand is one of the most popular bourbon whiskeys in the world. It has annual sales of approximately $2.5 billion and has been trading since the eighteenth century.
Courtesy of independent.co.uk
The Pacific Northwest once again dealt with an extreme heatwave to close out the month of July, and forecasters indicate that this won't be the last time that the region will see of such weather.
The heat will continue to linger as a strong ridge of high pressure builds over the Northwest as the jet stream bulges northward, thus allowing temperatures five to 20 degrees above average to take hold of regions in Oregon, Washington, Idaho and Montana over the weekend, according to The Weather Channel.
Forecasters say the region saw its warmest June on record, and July set some records as well. Portland experienced a yearly high of 103 degrees on Thursday, the hottest day in the city since July 29, 2009.
Furthermore, the high at Sea-Tac Airport in Washington was 91 degrees on Thursday, breaking the record for the most amount of days the city experienced temperatures of 90 degrees or above, according to AccuWeather. The city tied its nine-day record from 1958 on Wednesday.
The heat isn't just leaving locals miserable. It's having adverse effects on the environment and local wildlife. The hot dry air is sucking moisture out of plants and warming up rivers and streams, which in turn is causing fish to die off. Furthermore, pasture lands are drying up, causing certain crops from growing properly, according to ABC News.
Those suffering from the heat might be relieved to know that forecasters predict the weather will cool down next week. They warn, however, that above-average temperatures are expected throughout the summer.
Courtesy of hngn.com
Flash floods forced more than 1,000 evacuations and numerous rescues across Oklahoma and Texas, as officials warned a "historic" deluge was still to come on Sunday.
One firefighter in Oklahoma drowned after being swept away by flood waters. The heavy rainfall also washed out roads, trapped residents and knocked out power to thousands.
At least 60,000 customers were without power in Oklahoma and Texas on Saturday night — including more than 30,000 in the Austin area alone, The Weather Channel reported.
Flash flooding was expected to worsen across parts of Texas and Oklahoma as more torrential rains batter the already hard-hit region, according to The Weather Channel.
A state of emergency was in effect for 44 Oklahoma counties. The entire state was under flash-flood watches and warnings, and at least 15 highways were shut down due to flood waters.
One firefighter died after he was swept away by fast-moving flood waters in the city of Claremore, according to Oklahoma officials. Thomas Hudson, a Rodgers County emergency management official, said said the firefighter was trying to rescue civilians early Sunday when he was swept into the water and drowned. Several roads in and around the city were impassable and a few houses were flooded in Claremore, Hudson added.
Six inches of rain triggered flash flooding in Elk City, about 100 miles west of Oklahoma City. Elk City EMS said as many as 30 people were displaced.
The National Weather Service in Norman, Oklahoma warned motorists about the risk road conditions.
"This is a recipe for disaster," it said in a tweet. "DO NOT DRIVE INTO Water!"
Courtesy of nbcnews.com
"This is going to be a big one, historic," Moore said. "There could be paralyzing, crippling blizzard conditions."
New York City area was placed under a 35-hour blizzard warning beginning Monday afternoon, with as much as 3 feet of snow expected to create "paralyzing, crippling" conditions, forecasters said Sunday. It's part of a storm system that meteorologists said will pummel the Northeast from Philadelphia all the way to northern New England with potentially "historic" snow accumulations well into Tuesday night.
The worst of it will be late Monday through Tuesday night, with blizzard conditions, possible airport closings and major flight delays, damaging wind gusts and possible coastal flooding, the National Weather Service warned. The nation's largest city was put under an extraordinarily long blizzard warning stretching from 1 p.m. Monday to midnight Tuesday.
"Very highly populated areas of the Northeast are going to get crushed with snow," said Tom Moore, coordinating meteorologist for The Weather Channel. "Everywhere … you're going to get get hit very hard by this storm."
"This could be the biggest snowstorm in the history of this city," Mayor Bill de Blasio told reporters Sunday. "My message for New Yorkers is prepare for something worse than we have ever seen before."
"This is going to be a big one, historic," Moore said. "There could be paralyzing, crippling blizzard conditions."
Philadelphia, Baltimore and Washington, D.C., were already set for a messy Monday morning commute with up to 6 inches of snow expected overnight Sunday.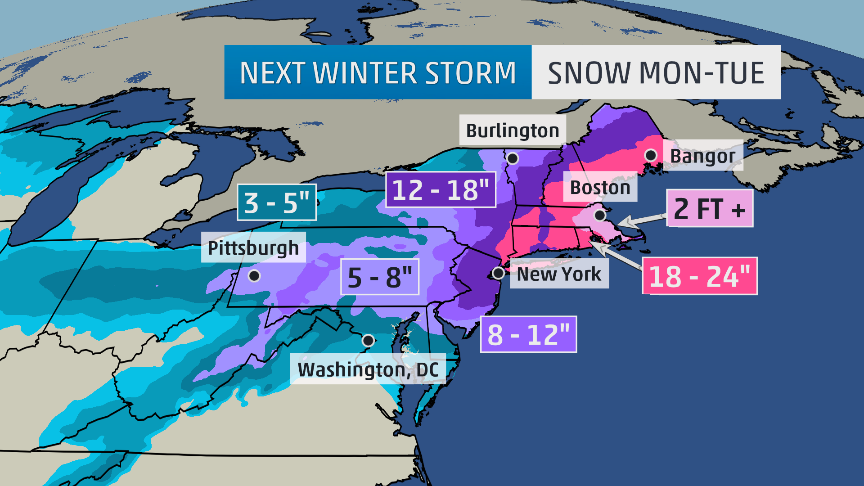 Moore said New England was "going to take a big hit, for sure" in Monday's storm. He said the storm was going to intensify "into a monster" as it moved northeastward during Monday. "The combination of the slow movement and the snowfall could create blizzard-like or blizzard conditions," Moore added.
New York City could see a foot of snow overnight Monday into Tuesday, while parts of Massachusetts, Rhode Island and Maine will likely get double that, according to The Weather Channel. During the peak of the slow-moving system, snow could fall at 2 inches per hour and won't stop until Wednesday in New England.
Massachusetts was also bracing for winds that could reach 70 mph in coastal areas, which, paired with the falling snow, will create whiteout conditions. "Travel may become impossible & life threatening," the Massachusetts Emergency Management Agency warned in a tweet.
The forecast came after millions of Americans across the Northeast awoke Saturday to a blanket of snow that was later doused with rain, leaving New York, New Jersey and Pennsylvania in a sloppy mess.
New Jersey State Police reported 126 traffic accidents, and a parking garage in Secaucus collapsed under the weight of the snow and a plow, police said. The plow's driver suffered minor injuries in the accident, which created a hole that was 50 feet by 50 feet, NBC New York said.
A Nor'easter delivered more than 5 inches of snow in New York City, while residents of northern New York were digging out of as much as 9 inches, NBC New York reported. Saturday's storm was the first significant snowfall in the New York area this winter. Scott Flath, general manager of Long Island Hardware in Bohemia, New York, said his store is well-stocked but that many of his customers are making their first winter supply runs of the season. He said they're telling him, "I have no idea where my shovel for last year is."
Courtesy of NBC News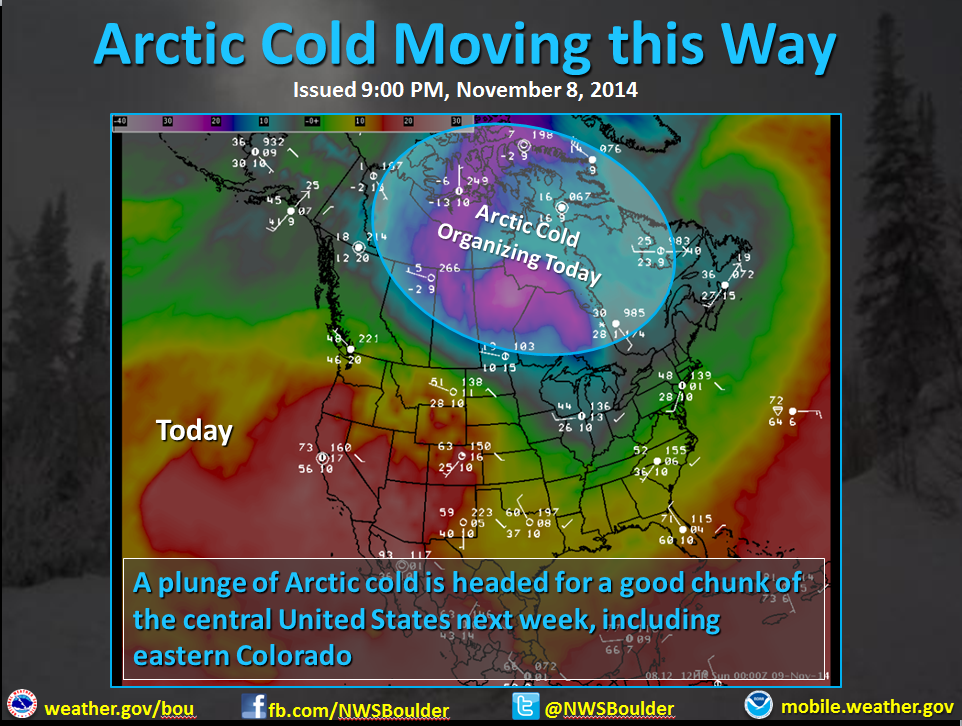 A massive storm packing arctic air moved eastward Sunday, promising a deep chill for two-thirds of the U.S. and heavy snow from Montana to Michigan, according to meteorologists.
The "season's first significant snow" will begin Sunday in Montana and the Dakotas, according to The Weather Channel. As the storm moves east through Monday, it will pick up strength and drop greater amounts of snow, delivering up to 18 inches around the Great Lakes by Tuesday. Commuters are warned to be careful of slick and slushy roads Monday morning in parts of Minnesota, the Dakotas, northern Wyoming and Montana. The National Weather Service cautioned that high winds would gust the falling or accumulated snow, adding to the dangerous conditions.
The arctic outbreak is also expected to set record low temperatures in some parts of the U.S.
The cold front will hit Montana and the Dakotas late Sunday, according to The Weather Channel, which said temperatures will plummet from a high of around 60 degrees to the teens in some places. A low of 12 degrees was expected in northern Montana overnight, following a daytime high of 24 degrees, according to Weather..com.
And the front will extend all the way to the Texas Panhandle, which can expect temperatures in the 40s, The Weather Channel said. Parts of northern Texas, Oklahoma and Kansas were under hard freeze watches on Sunday, according to the National Weather Service.
Temperatures will hover below average in the central and eastern U.S. through much of the week, Weather..com predicted.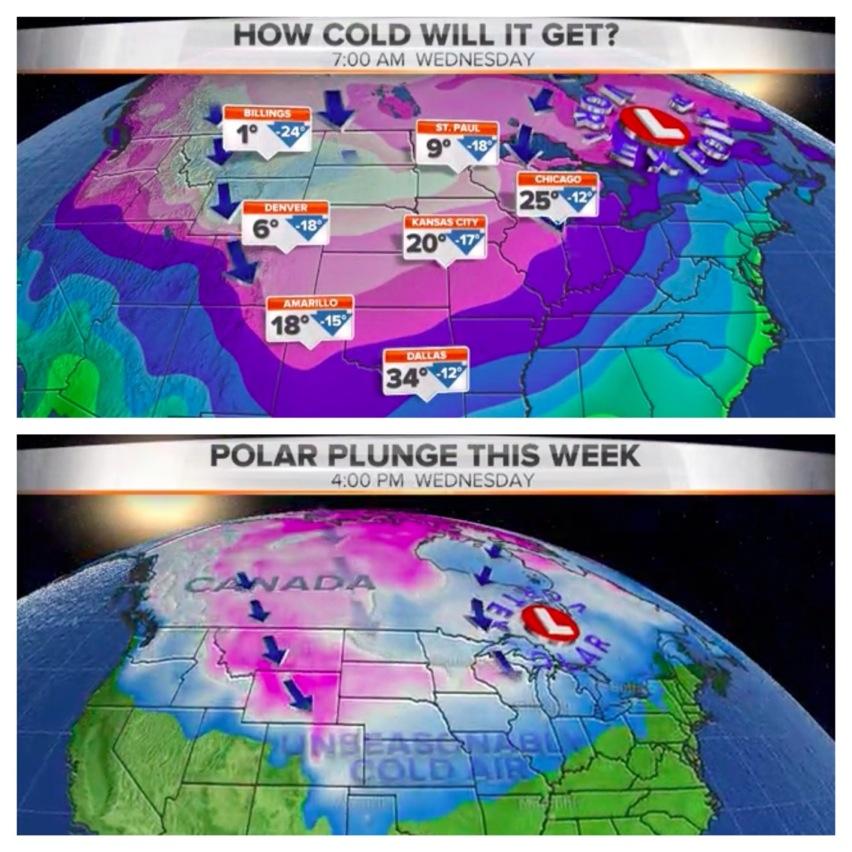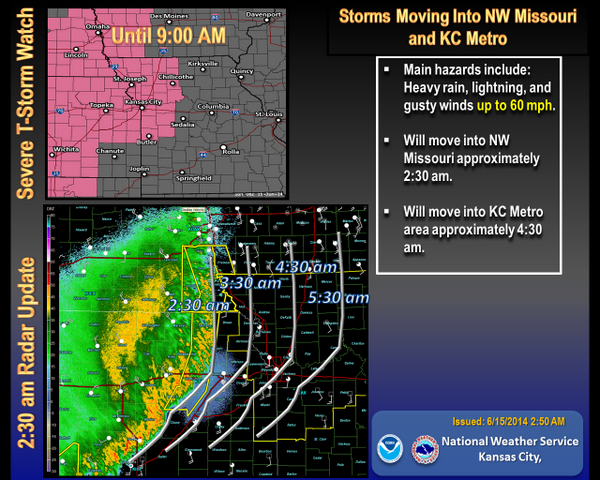 The powerful thunderstorm that pounded the Plains with grapefruit-sized hail is sliding east on Sunday, bringing the threat of damaging winds and the potential for tornadoes.
Saturday was the 12th consecutive day that severe weather was reported nationwide, according to meteorologists.
Winds of up to 90 miles per hour battered parts of Kansas overnight, according to the National Weather Service.
It said the severe storms are expected to weaken slightly but still produce strong winds and nasty weather for the Kansas City area.
With thunderstorms moving east, swathes of the country from southern Wisconsin through to Illinois and central Missouri will be hit on Sunday, according to The Weather Channel.
It said that large hail and damaging winds pose the greatest threat, but an isolated tornado or two can't be ruled out.
The Weather Channel warned winds could reach up to 80 miles per hour in Nebraska's capital, saying that tree damage is likely.
First Snow Of The 2013 Season Breaks Records, Alaska
Sunday marked the first measurable snow day in Valdez and it was a record breaker according to the National Weather Service.
A respectable 24.4 inches of snow fell Sunday, beating the old November 10 record of 19.1 inches set in 1994.
But before the Valdez Buccaneer Ski team trades in water skis for snow skis, it is worth mentioning that Sunday also broke the record for precipitation on that date, with the weather service reporting 2.10 inches of rain mixing with that record snow.
"The old record precipitation from November 10 was 1.77 inches from 1976," the weather service website said. "This brings the total precipitation for the year to 86.94 inches…which is the third highest annual total."
Unfortunately for those tasked with shoveling, driving, plowing or having to go outside on Veteran's Day, the mix of rain and snow continued most of the day Monday. At 2 p.m. the weather service reported an additional 4.6 inches of snow. Combine that with 2.31 inches worth of rain (also a record for November 11) on top of Sunday's rain and snow and you get 20 inches of slushy muck. Or as the weather service reports it, a combined snow depth of 20 inches. That rose to 22 inches by Tuesday morning.
The average yearly precipitation in Valdez between September 1 and November 11 is 19.84 inches. The weather service says 38.21 inches had been recorded as of Monday. This beats out last year's recorded rainfall of 33.95 inches.
The snowfall average between September 1 and November 11 is 23.5 inches. Last year at this time, the town had a paltry 8.4 inches of autumn snow by that date.
While the rest of Alaska battled numerous winter storms – some quite severe – and icy conditions in late October and early November, Valdez mostly cruised through early autumn with warm temperatures and little ice.
The current weather forecast from Tuesday morning says Valdez can expect milder conditions through the weekend according to Mark Byrd, a traveling weather technician currently working at the Valdez office of the weather service.
"There's nothing significant in the forecast for quite awhile," he said, maybe some scattered snow showers Thursday. "Nothing too heavy duty coming at us."
This week's record snow and rain days are timely; last Thursday, the Weather Channel (once again) recognized Valdez as the snowiest city not only in Alaska, but in the USA.
Valdez "clobbers the competition" according the Weather Channel website.
The second snowiest city in the nation, Crested Butte, Montana, boasts a yearly average of 215.3 inches of snow. Valdez averages 326.3 inches (27.2 feet) per year.
The Weather Channel asked the question, "Why do they get so much?"
According to its meteorologists, the mountains surrounding Valdez are just one of several primary causes.
"These mountains don't completely block cold air in the Alaskan interior from reaching Valdez. Instead, north to northeast winds channel through mountain valleys. Cold air can also drain from glaciers and mountain snowfields into the city, especially at night," the Weather Channel explains. "Secondly, one of the most common low pressure systems on the planet, the "Aleutian low", sets up camp to the southwest of Valdez in the colder months. When this happens, copious Pacific moisture pumps into southern Alaska. If cold air is in place, as described above, you guessed it, heavy snow results."