Tag Archive | western Colorado
"Never seen anything like it",  Eric Risch told CBS Denver
Some people in Colorado are cleaning up after hail piled up like snow in some areas.
In western Colorado, the National Weather Service says several people reported golf-ball size hail near Pagosa Springs on Monday.
The system that brought the unusual early fall weather to Colorado is headed for the Midwest, where officials have issued warnings about severe thunderstorms across the Great Plains.
Quarter-sized hail piled up like snow in Greenwood Village while the unsettled weather led to a tornado watch for 14 counties.
Monday's raging storm damaged more than 500 cars and shattered windows at the Hyundai dealership in Arapahoe.
"Never seen anything like it. Only thing close would be a tornado," employee Eric Risch told CBS Denver. "Quarter-sized hail just ripping through the air."
"Wind started coming in and all of a sudden it looked like it was snowing in September," sales manager Ray Saccomano said. "What kind of pressure do you need to do something like this? A lot of pressure."
Though Denver did not get much more than heavy rain, areas all around the city like Northglenn, Thornton, Aurora also saw intense hail from the storm system.
Actual snow fell in the mountains, shutting down Trail Ridge Road through Rocky Mountain National Park.
More snow is in the forecast for parts of the mountains Tuesday.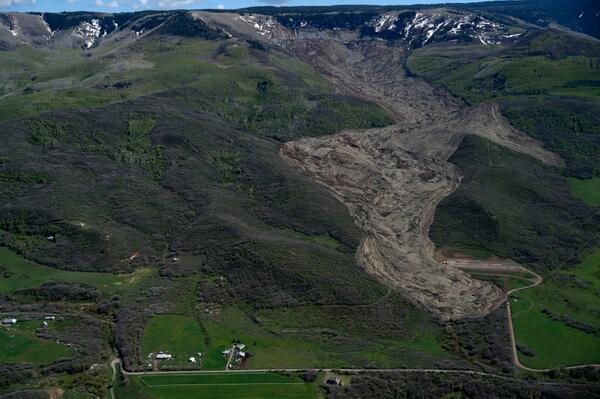 A massive landslide swept through Mesa County in western Colorado, U.S., on May 25, 2014. According to the Mesa County Sheriff's Department, three people are missing. The slide occurred after a day of rain and a smaller slide earlier in a day.
According to Mesa County Sheriff Stan Hilkey the three men who are reported missing went to check on their irrigation water that had been disrupted. From there they went to check on the first slide.
It's believed a second slide happened while they were in that area and they may have been caught in it.
The site is located along Salt Creek Road, also known as 601/2 Road, near Vega State Park, east of Collbran. It is 800 m (0.5 miles) wide and about 3.2 – 4.8 km (2 – 3 miles) long. At the edges, the mud is 6 – 9 m (20 – 30 feet) deep, and at its center it is believed to be about 76 m (250 feet) deep.